Jasper AI plays a pivotal role in many industries today as digital content generation takes on a rapidly growing speed. This exhaustive analysis and tutorial aim to highlight this AI-driven writing companion gaining significant industry recognition.
Jasper AI is an innovative tool designed to aid content creators, marketers, and businesses in producing top-tier content effortlessly. But what sets Jasper apart in the crowded landscape of AI writing tools? How does it operate, and more importantly, can it truly enhance your content creation strategy?
Jasper will be explained in depth in this comprehensive guide. Whether you're a seasoned content creator or a small business owner looking to optimize your content creation process, this review is tailored to your needs.
Jasper AI is an AI writing assistant that streamlines content creation. You only need to provide basic inputs, and Jasper will generate fresh, high-quality content. Jasper can be employed to develop various content, including blog posts, product descriptions, marketing copy, and more.
It's also a fantastic tool for expanding your ideas and documenting your thoughts. The software is easy to use and affordable, making it an ideal choice for businesses of any size.
Jasper is a potent tool packed with a plethora of features crafted to assist you in creating high-quality content. Let's delve into some of these features before we explore how to leverage Jasper.
Brand Voice
Jasper's Brand Voice is an impressive set of features that allow users to inject their unique brand voice into AI-produced content. This feature ensures that the company's brand identity, tone, and style align with all created content.
Even more impressive is that it can learn about your company's facts, product catalogs, audiences, and other key points. So, when Jasper generates branded content, it has access to a comprehensive memory of what your company does and how it does it.
This makes AI-generated content less likely to require heavy editing before use. It saves time and accurately and consistently represents a brand's voice in all forms of communication.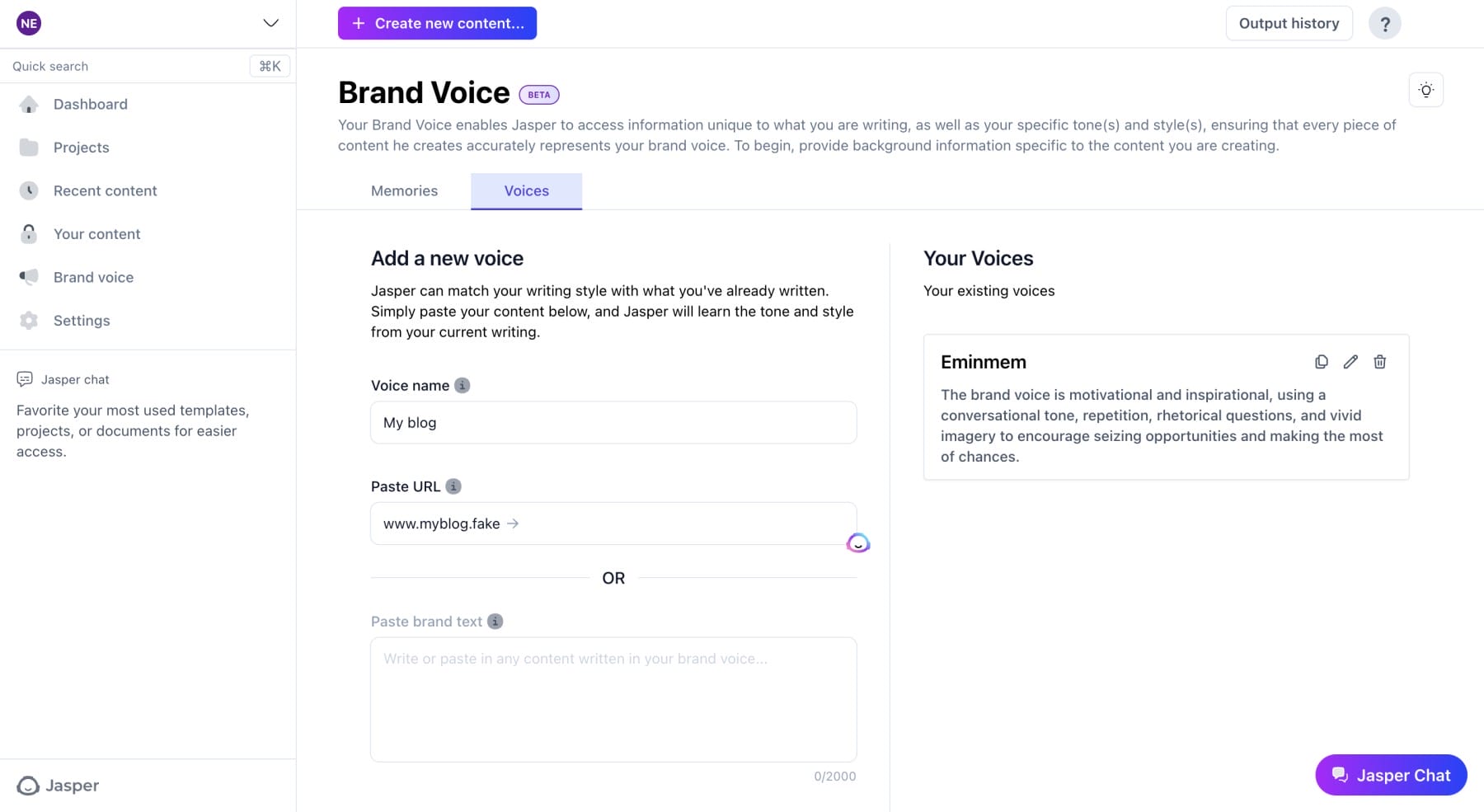 Depending on your paid account level, you may be able to add multiple brand voices to your account. The basic Creator plan includes 50 memories you can save, with higher plans offering even more memories to use across your generated AI.
Product Descriptions
Jasper can generate a wide array of content, from social posts to blog articles. But it can also write descriptions highlighting a product's key features and benefits, making it more appealing to potential customers.
This feature is particularly useful for eCommerce businesses that need to create a large volume of product descriptions or affiliate marketers looking to describe a product in a fresh, engaging way.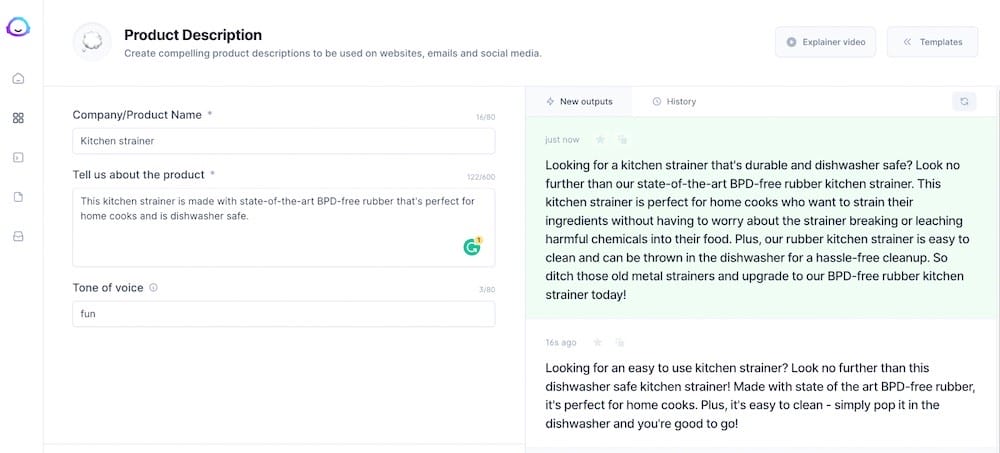 Jasper Use Cases
Jasper can generate an array of marketing copy. From catchy social media captions, persuasive ad copy, or compelling email subject lines, Jasper is a marketer's dream. It can understand the nuances of different marketing channels and adjust its writing style accordingly, ensuring that your marketing copy is always on point.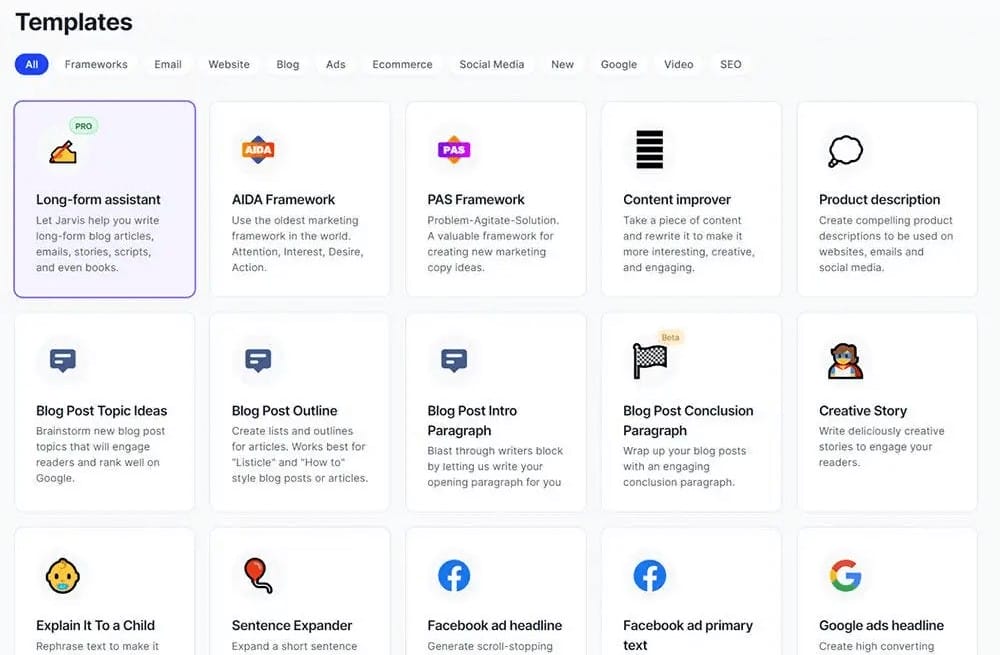 Using pre-created templates, creating one-off text content across several channels and purposes has never been faster. Though it doesn't post social content for you or run ads, it is a solid AI marketing tool to consider.
Jasper Chat
Jasper Chat is an enhanced alternative to ChatGPT and other AI chatbots. It uses artificial intelligence (AI) to provide a more conversational and engaging experience.
Unlike traditional chatbots, Jasper Chat can converse with users, understanding their intent and providing appropriate responses. Users can ask questions, make suggestions, share opinions, and even give feedback without using a specific set of commands.
Jasper Chat is also integrated with their content creation platform, so you can create content in conversational chat flow and pull it into a document.

Jasper Chrome Extension
For added convenience, Jasper offers a Chrome extension. This allows you to use Jasper's features directly from your browser, making it easier than ever to generate content. Whether you're drafting an email, writing a blog post, or crafting social media posts, the Jasper Chrome extension can help you easily create high-quality content across the web.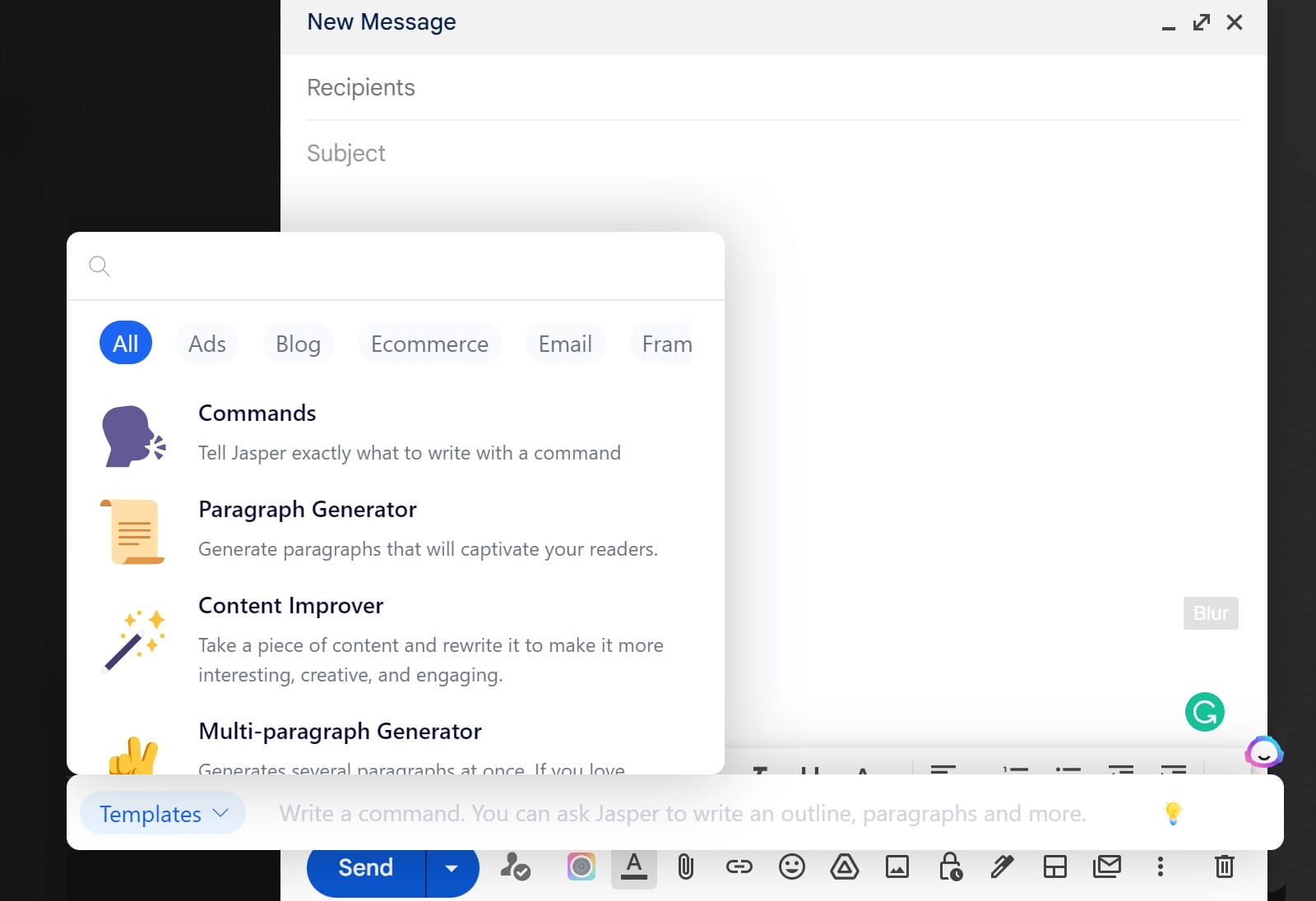 Jasper serves a plethora of use cases for marketers. Use it for simple one-off content requests or to create long-form content. We'll show you how to use the document editor to create longer content and then how to use Jasper's Brand Voice tools to ensure that your content fits well in your channel strategies.
Long-Form Content with Jasper
Thanks to its intuitive interface and powerful AI capabilities, generating high-quality long-form content with Jasper is a breeze. Here's a step-by-step guide on how to do it:
Once logged into your Trial or paid account, click "Your Content" and select "+ New from a template."

Click "Workflows" and choose the "Blog Post Starter" workflow from the list.

Your long-form content will be created in a new Document. On the left, you can see Workflows, Templates, Commands, and Chat, which are ways to interact with Jasper AI to create your desired content.
"Blog Post Starter" is pre-selected, and we see the current open Workflow in the middle sidebar. Enter some context for the Workflow to get started (optional).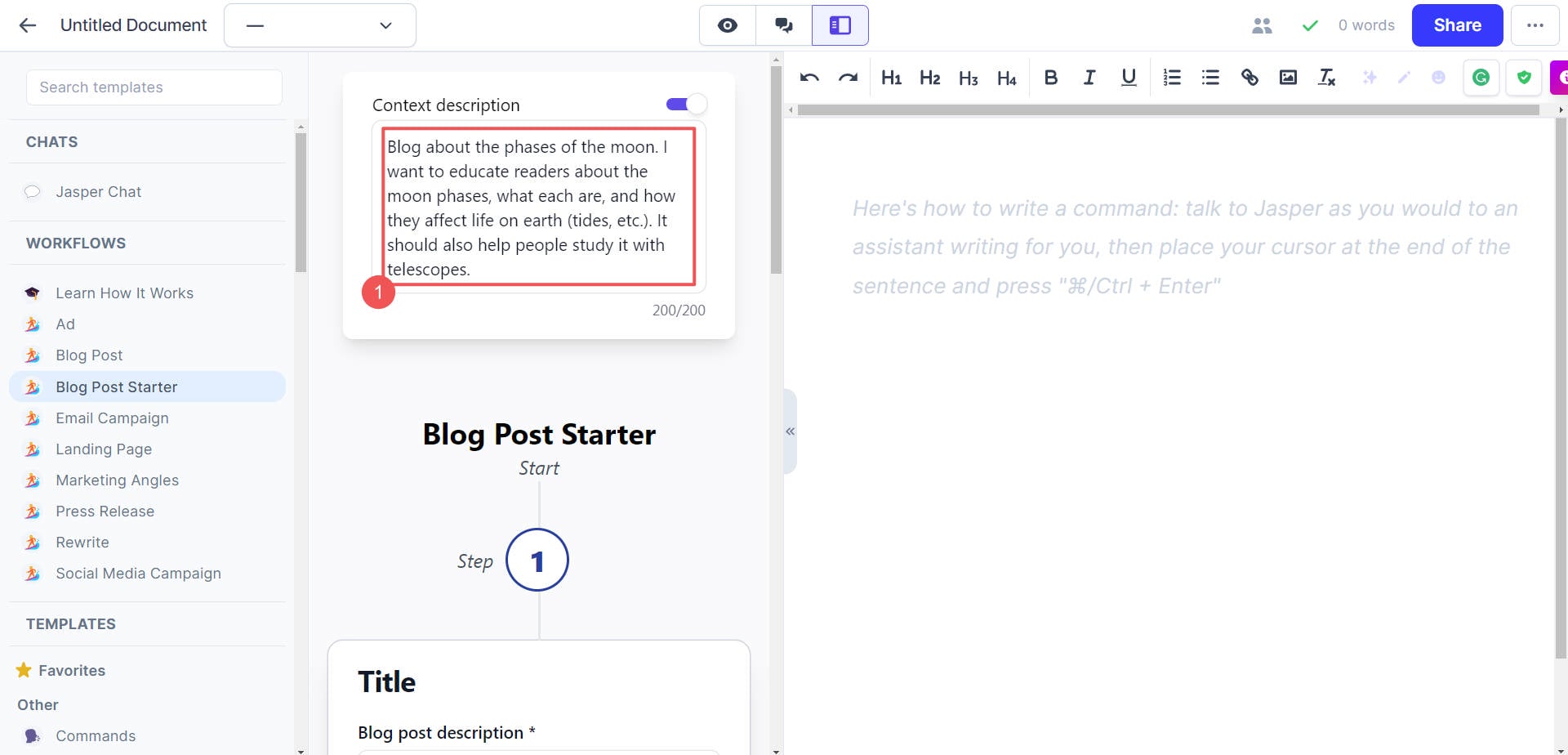 Scroll down the middle sidebar to the "title" section and write a solid blog post description to give Jasper an idea about the post. Click "Generate" to create some blog post titles to apply to the document.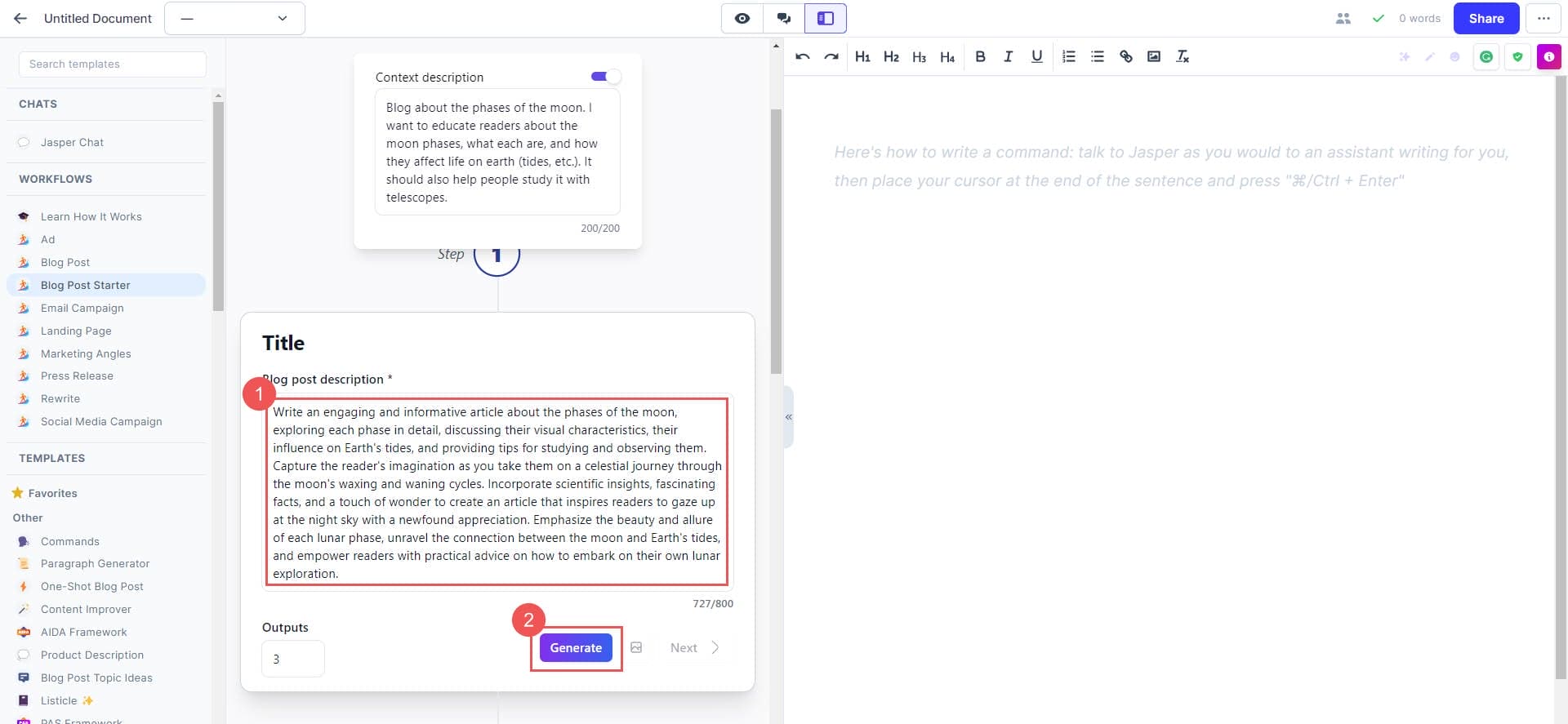 For our example, it created two outputs. We chose to go with the 2nd output (green check mark). Click "Next" to apply it and move down the Workflow.

We added the title to the document as an H1, then moved to the "Intro Paragraph" section of the Blog Post Start Workflow.
Here, we kept the content description that we added earlier but added our desired keywords that we want to ensure show up in our content's first paragraphs. Clicking "Generate" sends Jasper to work. Next, we selected the output version we liked and pushed it to the document.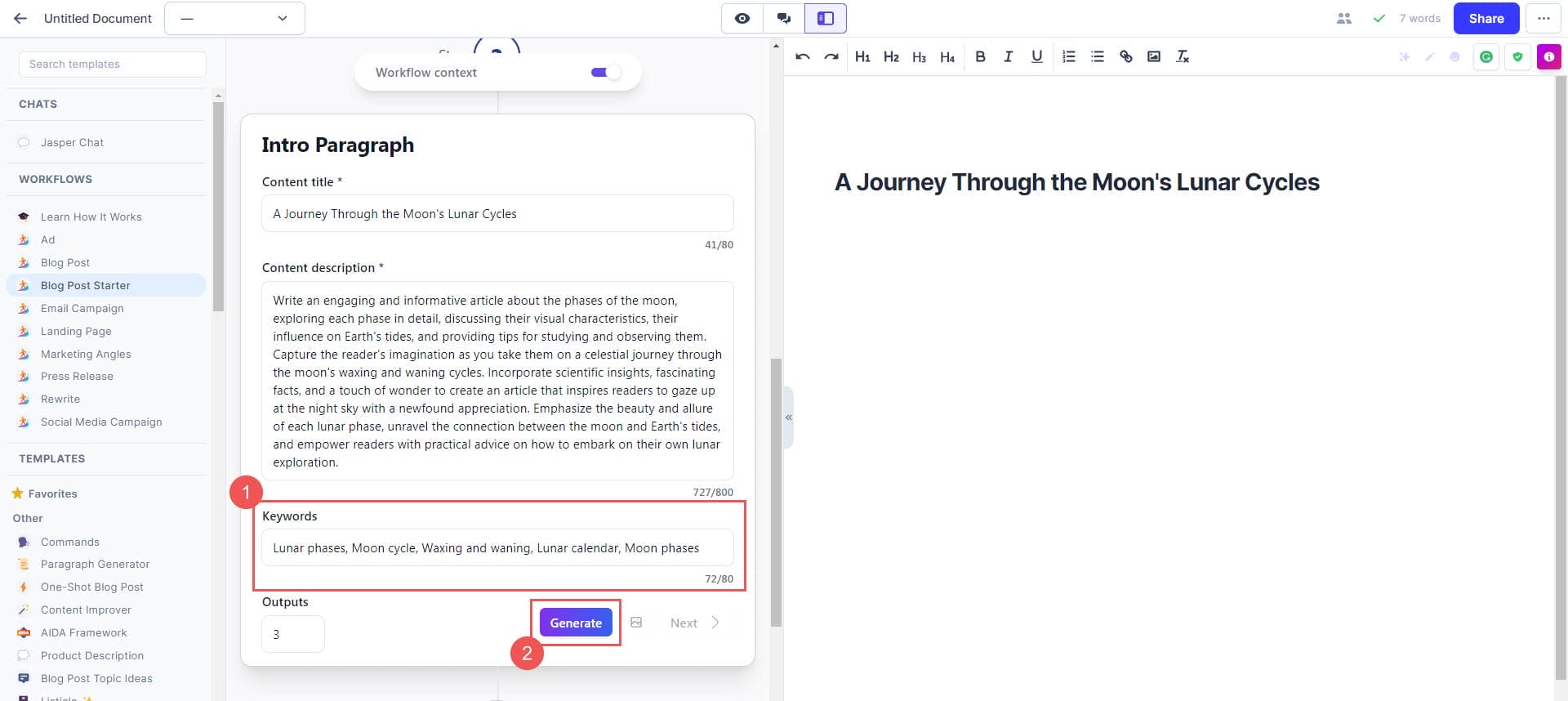 Now, since we had a Title and an intro paragraph, we went to add a post outline for the rest of the article. To do that, on the left sidebar, we selected "Blog Post Outline" from the templates section. Then, we entered our blog post title and desired tone of voice. We clicked "Generate AI Content" to create our two post-outline versions.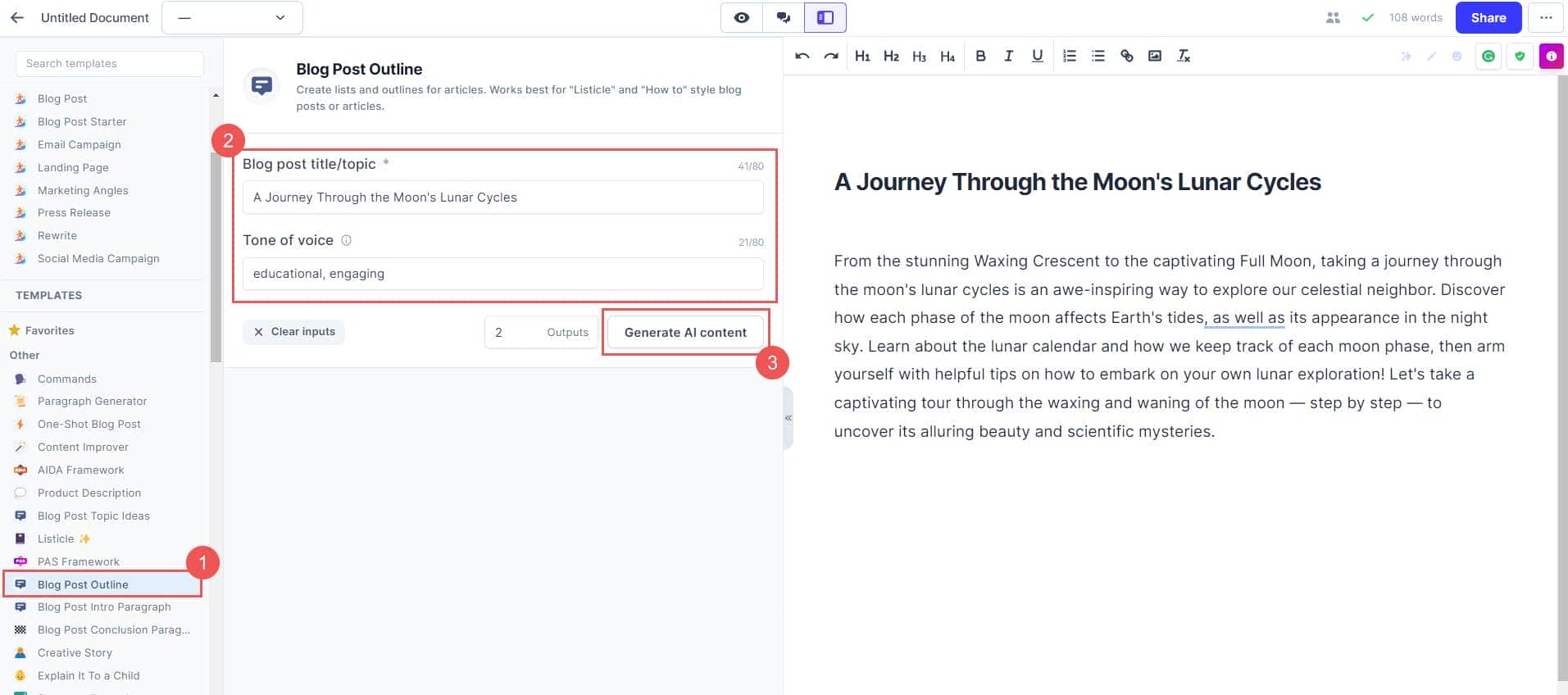 In this instance, version #1 was closer to our expectations. By clicking the ">>" icon, we could push that output to the document.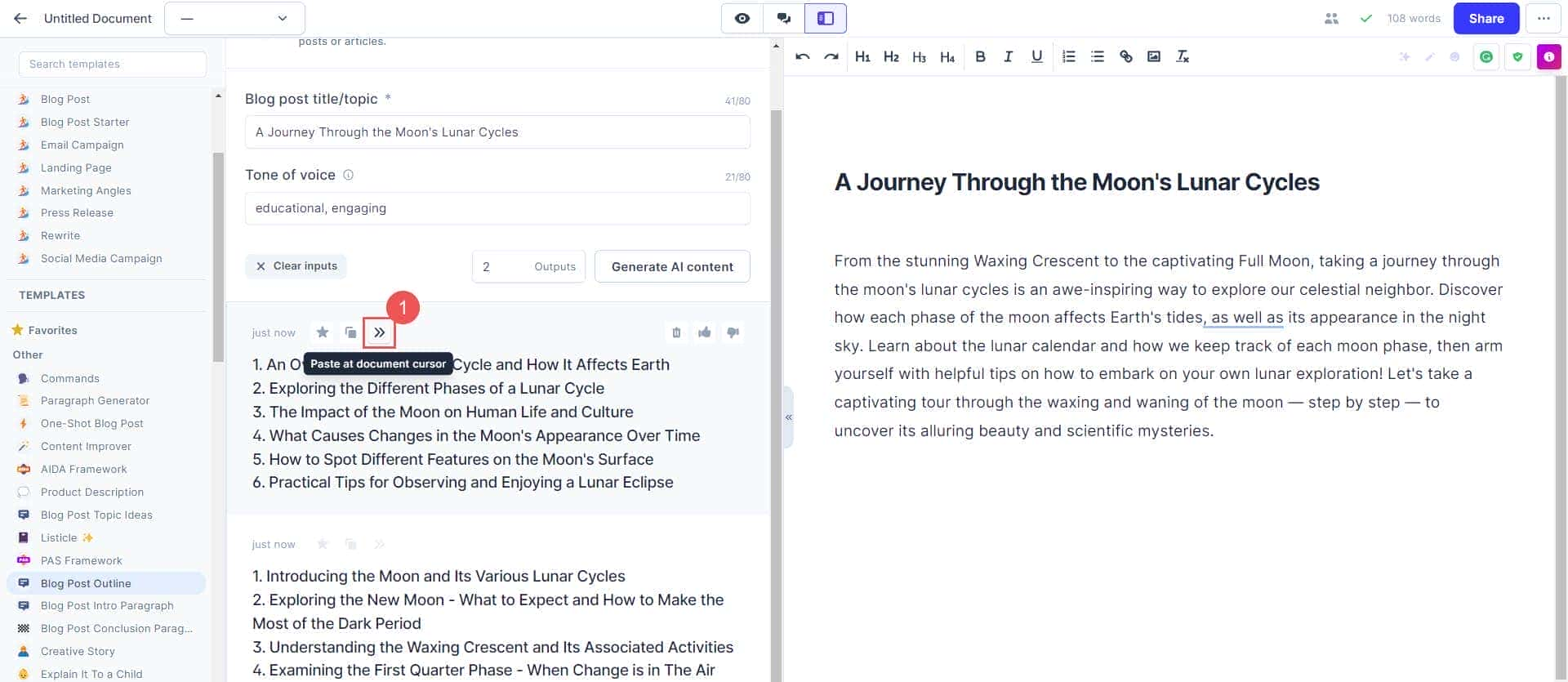 We formatted the outline to match the H2s and H3s that we wanted them to have. Then, we selected the "Paragraph Generator" from the Templates section. It asks for a description of the paragraph (which you can use the outline heading), "Keywords," and "Tone of Voice." Like before, click "Generate AI Content," and Jasper gets to work.
Do these same steps for each section of content. Depending on the length of the outline, you'd easily have 500-800 words of AI content that you can spruce up or use other templates to create even more content.


Here are the first few paragraphs we created for our article using Jasper.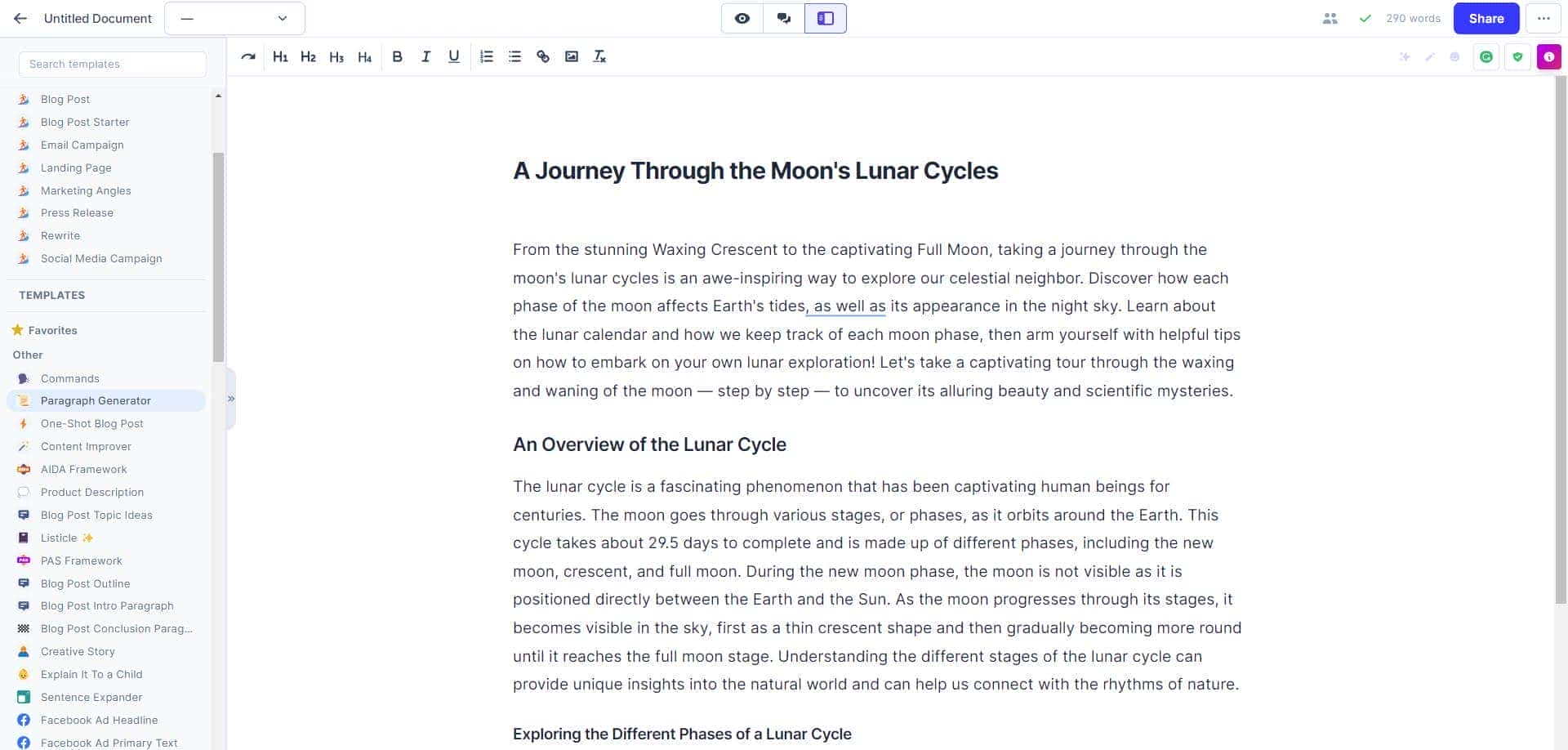 Utilizing Jasper's Chrome Extension
Jasper AI offers a Chrome extension that directly brings the power of its AI writing assistant to your browser. This feature allows you to generate high-quality content effortlessly, whether drafting an email, writing a blog post, or crafting social media posts.
To install the Jasper Chrome extension, visit the Chrome Web Store, search "Jasper AI," and click "Add to Chrome." Once installed, the Jasper logo will appear on the browser's top bar or your extensions page, indicating the extension is ready.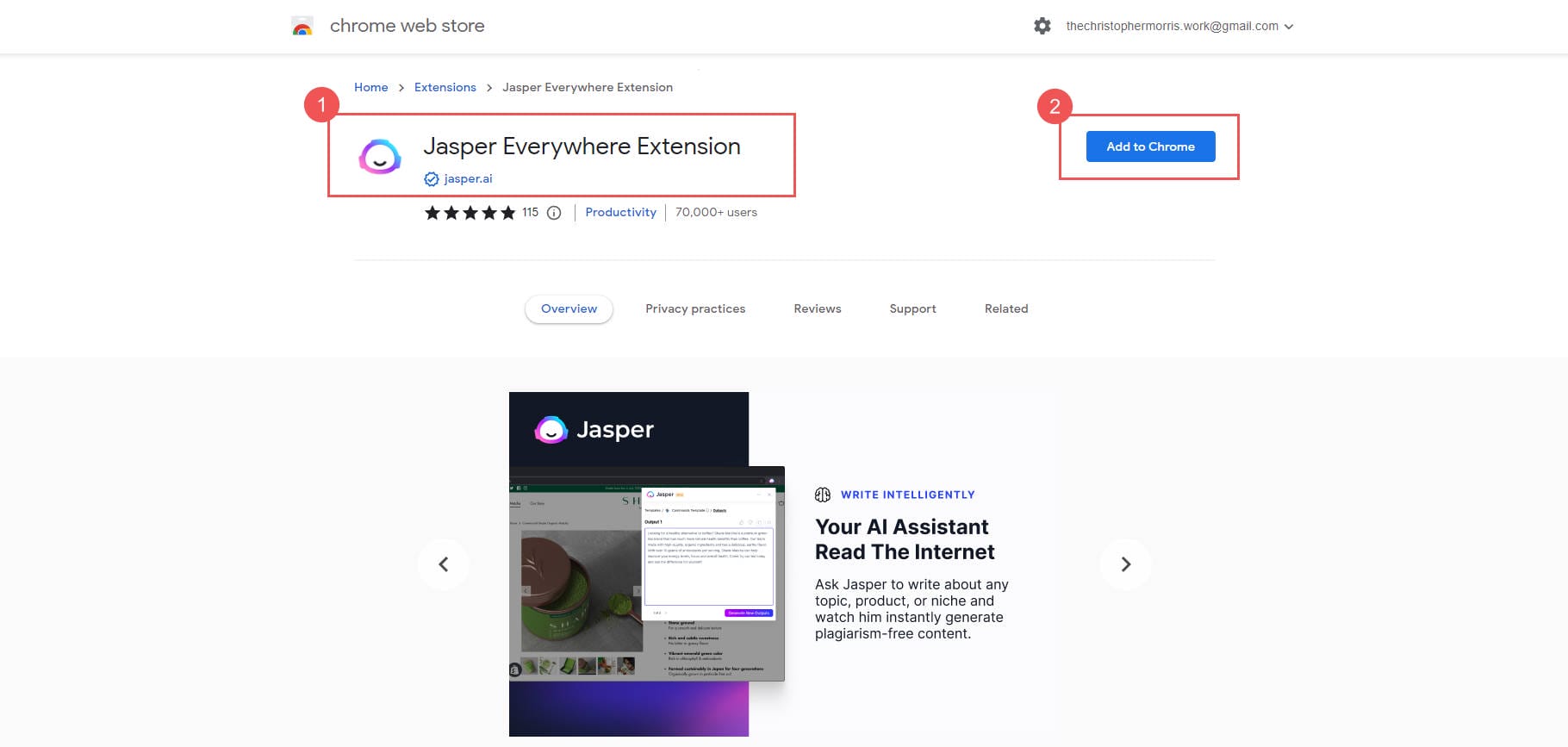 The Jasper Chrome extension is incredibly versatile and can be used in various ways. For instance, you can use it to respond to emails quickly and easily, right within your inbox. Jasper's empathetic response feature can help you write messages that show understanding and care, making your emails feel more personal and less robotic.
For this example, we wanted to tweet the Jasper team, letting them know we installed their extension. Start a blank Tweet and click the Jasper icon in the text field to do this.

That opens a dialog box. You can enter text directly in the prompt (as a command) or choose a template.
To select a template, click the downtown button that says "Template." Choose your template; in this case, choose "Tweet Machine Template." Then, tell Jasper what the Tweet should be about and select a Tone of Voice. Clicking "Generate" whips up some great options to choose from.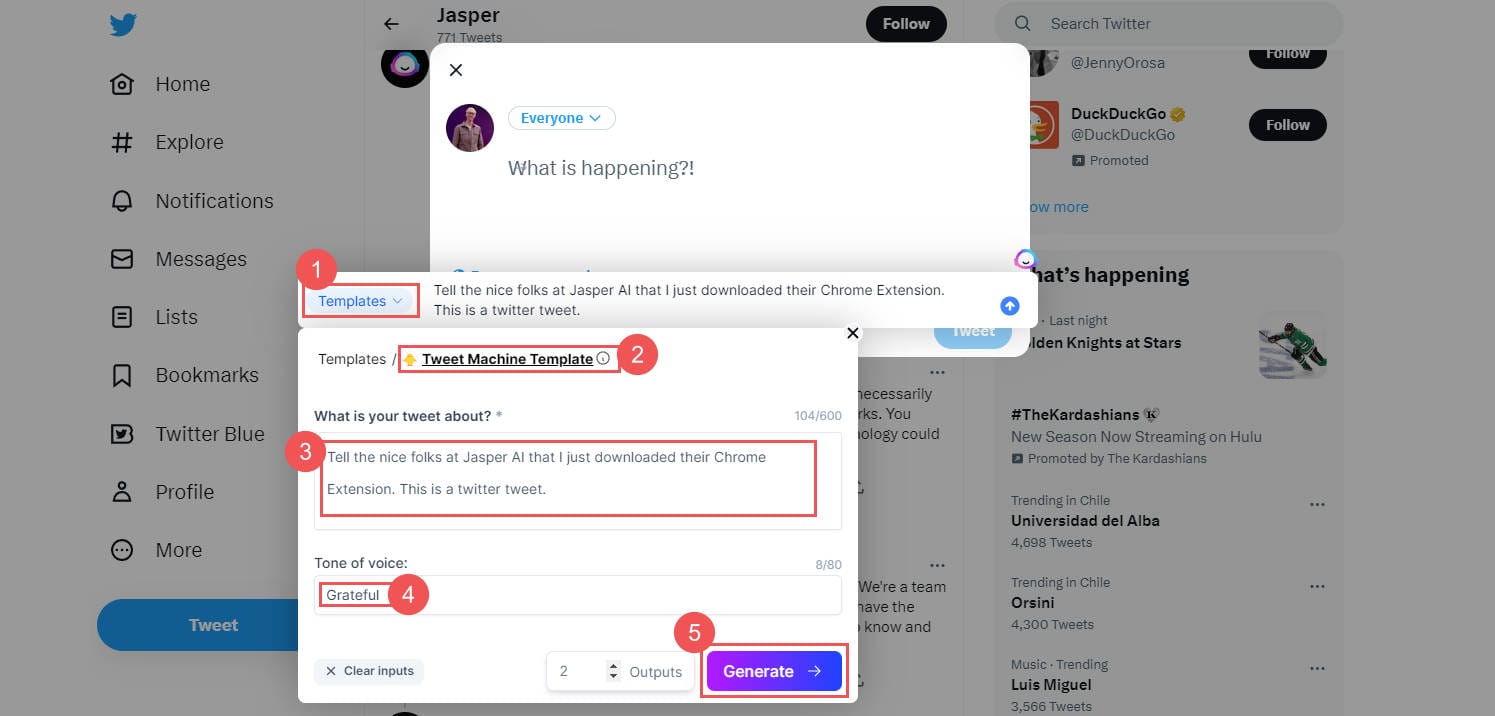 It will create multiple options. I selected, copied, and pasted the choices that I liked best. Super easy to use.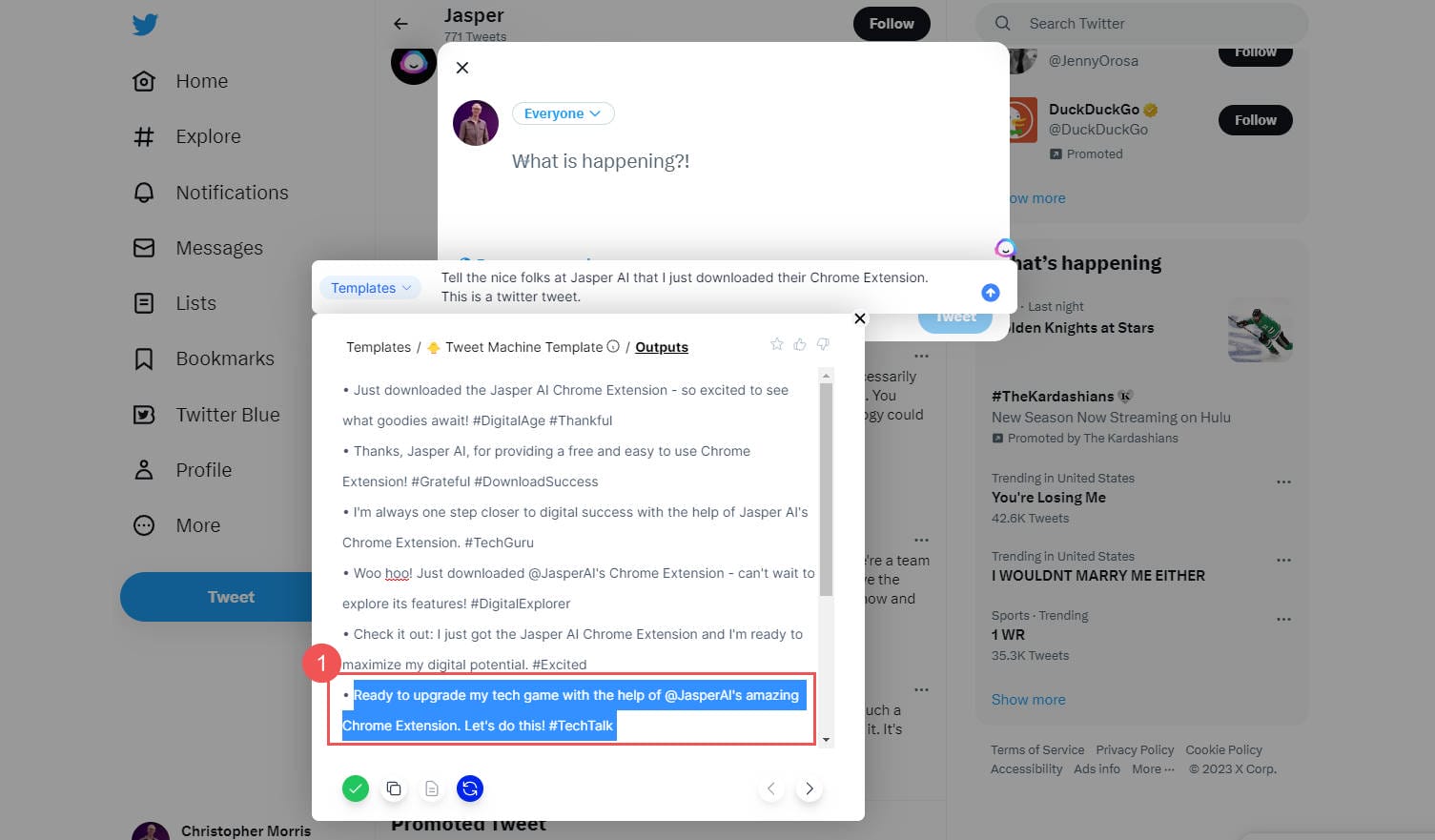 And here's a look at the final Tweet it came up with. We especially liked that it tagged Jasper on their handle and added a contextual hashtag.

Jasper offers a free trial to get a feel for the product. It's worth noting that some features are limited, but it's enough to test out basic functionality.
Jasper AI's free trial includes a range of features for its AI writing platform. With the free trial, users can access brand voice capture to help ensure that their content is consistently on-brand.
Additionally, users can benefit from templates and workflows, which provide structure and guidance in content creation. Finally, with the free trial, users can generate two outputs from every content generation request. This ensures that they have various options to choose from when creating content.
For different types of customers, Jasper offers three different pricing plans.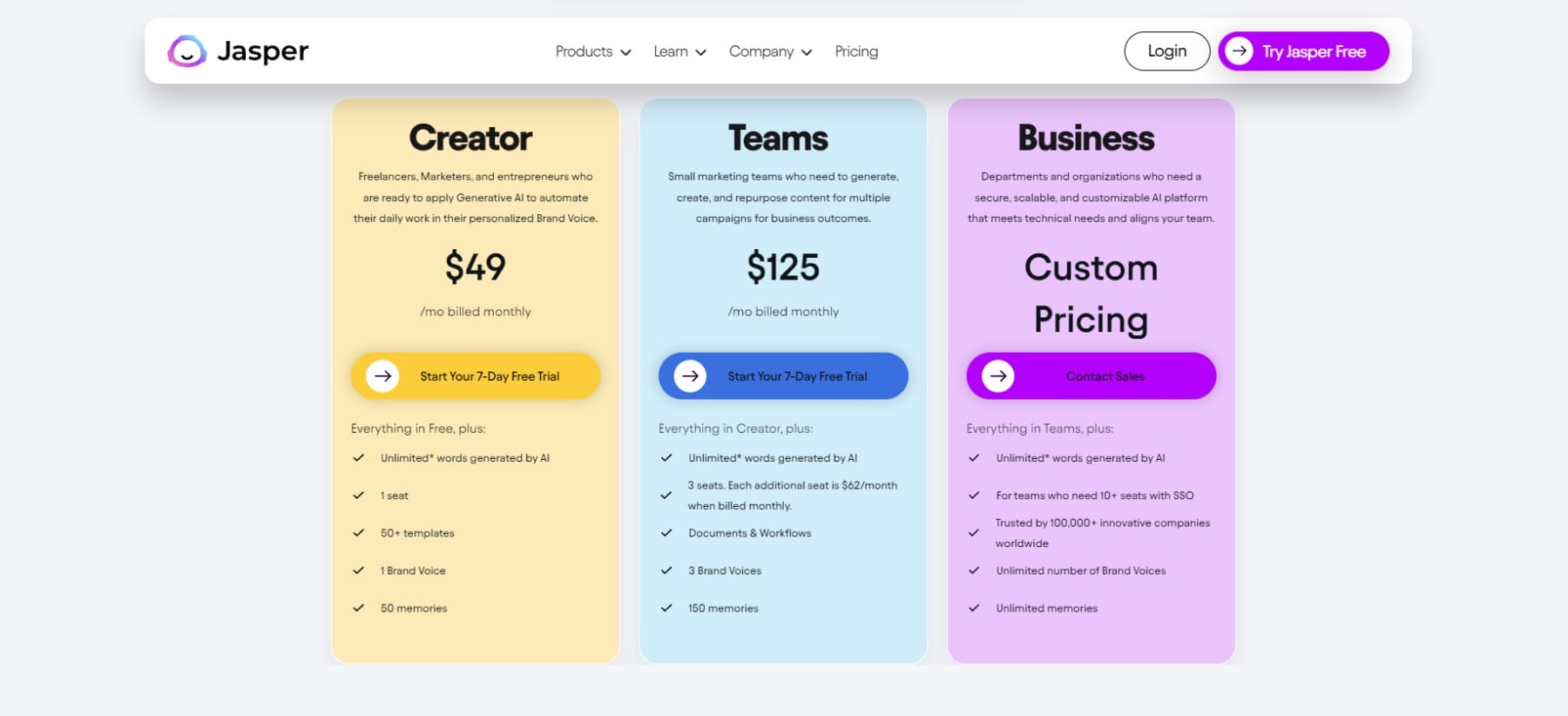 The Basic plan is $49 and provides access to 1 user seat, one saved brand voice, and 50 stored memories. The Teams plan is $125 per user per month and includes increased access to the same features. Finally, the Enterprise plan is customizable and allows users to access increased limits for a custom price.
All plans now include all features and unlimited generative output, which is new. In the past, Boss Mode enabled more words to be generated per month and gave access to longer format content creation. Boss Mode is no more, and the new Jasper is better than ever.
Jasper AI is a versatile tool that can benefit many users. For small businesses, content creation can often be a time-consuming task. However, with Jasper, you can streamline the process significantly.
Jasper can generate various content, from product descriptions to blog posts, saving business owners valuable time. Moreover, its consistent brand voice ensures that all content aligns with the business's identity, enhancing brand recognition. Companies can also provide unique content with its plagiarism checker, further boosting their SEO efforts.
Content writers often have to juggle multiple projects simultaneously, making it challenging to produce high-quality content consistently. Jasper can be a valuable tool in their arsenal, helping them generate ideas, create outlines, and even write entire articles.
Its ability to generate long-form content can benefit writers working on in-depth articles or reports. Additionally, Jasper's Chrome extension allows writers to use the tool directly from their browser, making it even more convenient to create content.
Creating compelling copy that resonates with their target audience is crucial for organic and paid marketers. Jasper's AI-powered capabilities can help generate marketing copy that's engaging and tailored to the specific marketing channel, whether it's social media, email, or online ads.
Furthermore, marketers can use Jasper's SEO mode to create content optimized for search engines, thereby increasing visibility and reach.
Conclusion
Our review and guide have taken you through the remarkable features of Jasper AI. We've also given you step-by-step instructions for creating a blog post and setting up Jasper's Brand Voice. We've explored how this AI-powered writing assistant can revolutionize your content creation process, making it more efficient and effective.
Explore our other articles on AI technology, where we delve into topics such as AI website builders, AI rewriting tools, and the best AI SEO tools out there. As the world of AI continues to evolve, we're here to keep you informed and equipped with the knowledge to leverage these powerful tools in your content creation journey.