Artificial intelligence (AI) has significantly influenced content creation and management. On one hand, AI authoring tools are invaluable for creating and optimizing content rapidly. On the other hand, AI content detectors ensure that AI-written content isn't copied and reads more like a human than a machine.
This comprehensive guide explores this dichotomy of AI-penned content and AI content detection, emphasizing the top AI content detectors you should consider.
The Importance of Reliable AI Detection Tools
Identifying reliable tools can pose a challenge. We've assembled a list and review of the top AI-catching software. Beginning with Originality.ai, here's our rundown of leading products to consider:
1. Originality.ai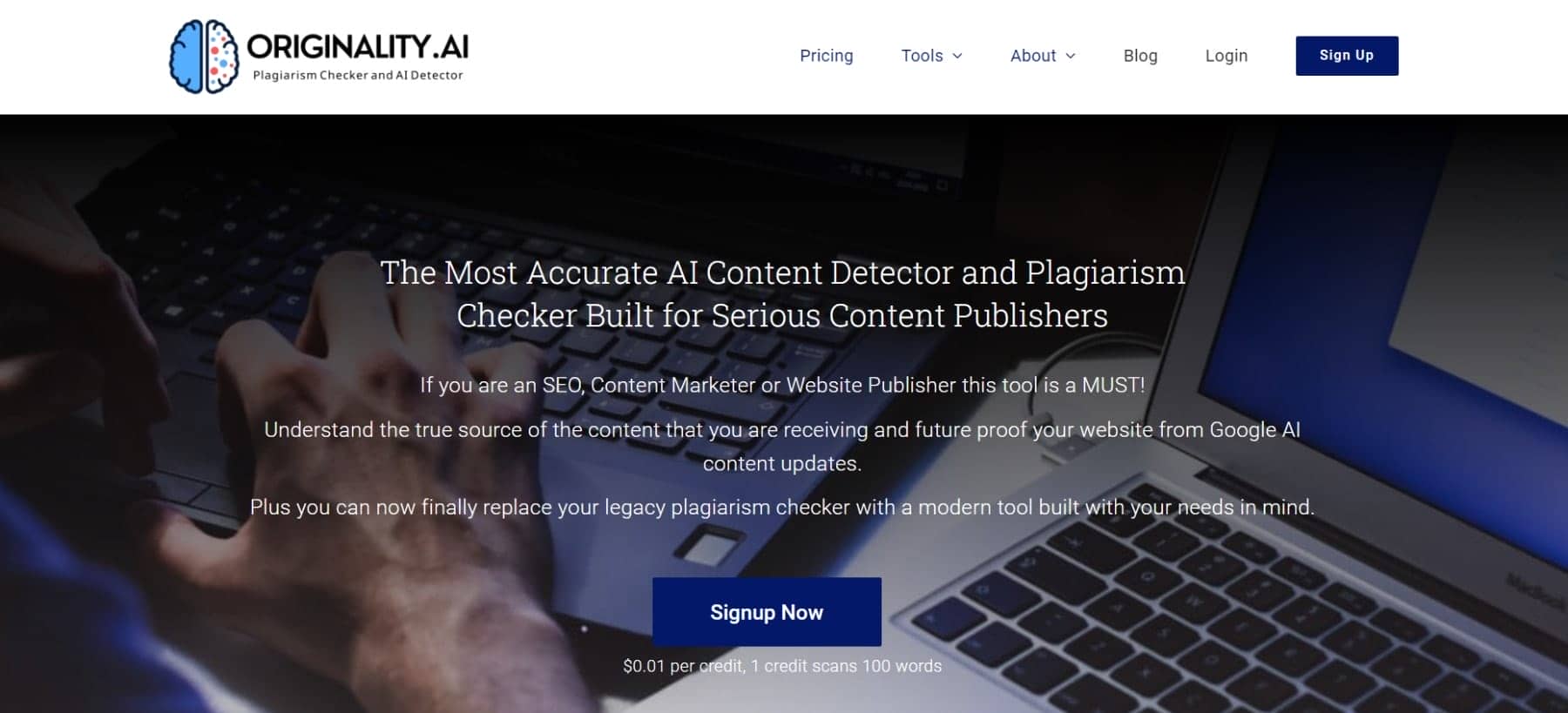 Originality.ai is a leading tool that introduces the power of AI to the realm of content detection. It's a favorite among users for its ability to swiftly and accurately detect AI-generated content, ensuring the authenticity and originality of written material.
Key Features:
Industry-leading accuracy for detecting AI content
Real-time detection of AI-generated content
Convenient Google Chrome extension
Breakdown of AI and Human text
API for text analysis at Scale
Originality.ai permits authors to scan any content. They can input it onto the website's front end, connect its API, or scan content on specific URLs using the Chrome extension.
Best For:
Originality.ai is ideal for content creators, editors, and digital marketers who need to authenticate their content quickly. Its real-time detection makes it a useful tool for those working in fast-paced environments where time is crucial.
Pricing: $0.01 per credit, where one credit can scan ~100 words
2. GPTZero

GPTZero is a tool designed with simplicity in mind. Primarily built for educators and educational institutions, GPTZero offers academically focused plagiarism detection tools.
Key Features:
Clean UX for simple text-checking
Quick content check focusing on specific models (GPT 3, Bard, etc.)
MS Word and LMS integrations
Best For:
GPTZero is perfect for educators and department heads researching AI use in academic work. Its clean design makes it an excellent choice for those new to AI content detection and want a tool that's easy to use.
Pricing: Free to use on their website, but API costs based on usage
3. Sapling AI Detector

Sapling, known for its other AI tools, also offers an AI content detection tool. This tool is designed to provide a highly accurate solution for detecting AI-generated content.
Key Features:
Provides an overall percentage of inauthentic content
Access to API for bulk or app-based content checking
Works inside CRMs and email clients
Best For:
Sapling is best suited for customer support or sales professionals. One would get higher word count limits for detection priced steeply, so organizations would need to use the full product to justify the costs.
Pricing: Free to use on their website with paid plans and longer character limits starting at $25/mo
4. Writer.com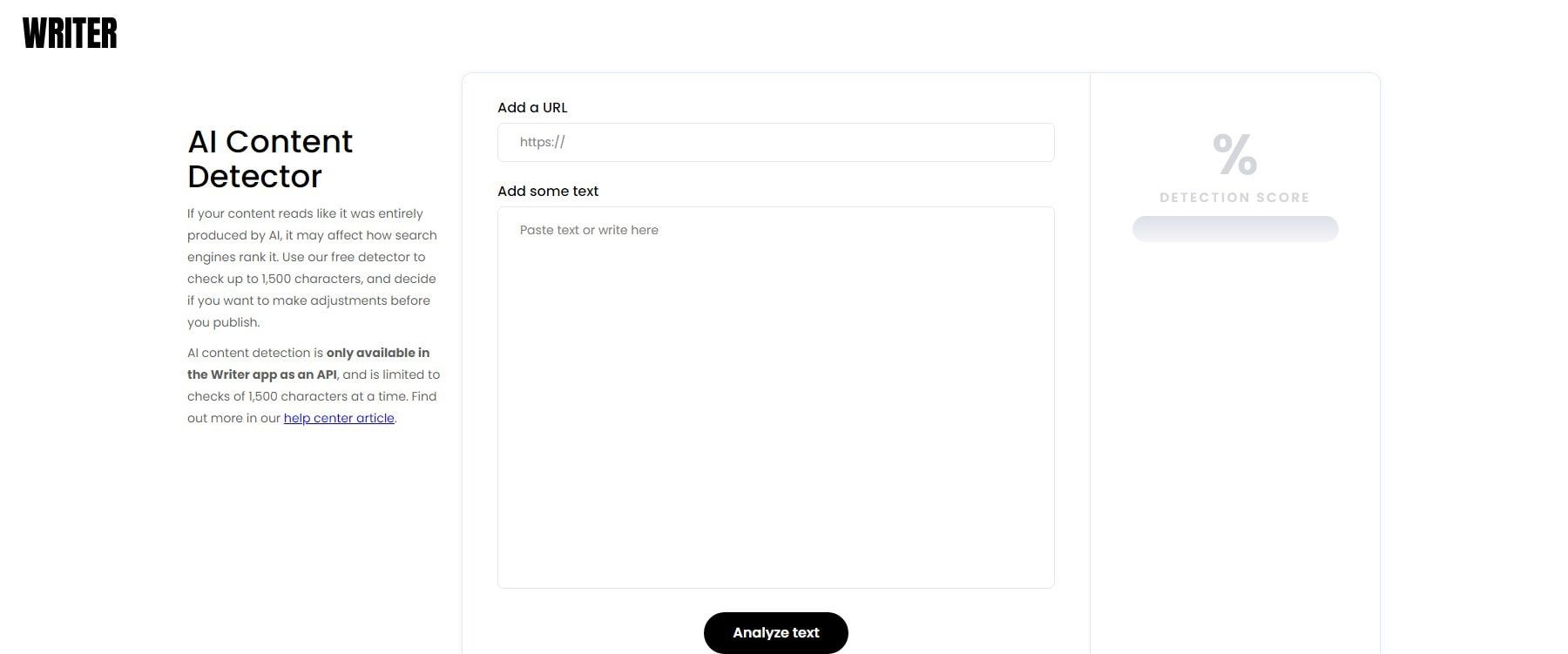 Writer.com is more than just a writing assistant. It's an all-in-one platform that helps improve your writing and spots AI-generated content.
Key Features:
Provides grammatical suggestions, tone recommendations, and a plagiarism checker
Can detect AI-generated content from a URL or pasted text
Check up to 1,500 characters free
Plenty of other AI writing tools and features
Best For:
Writer.com is ideal for professional writers and copywriters who want to ensure their content is well-written and free from AI-generated or plagiarized content.
Pricing: $18/mo per user
5. Copyleaks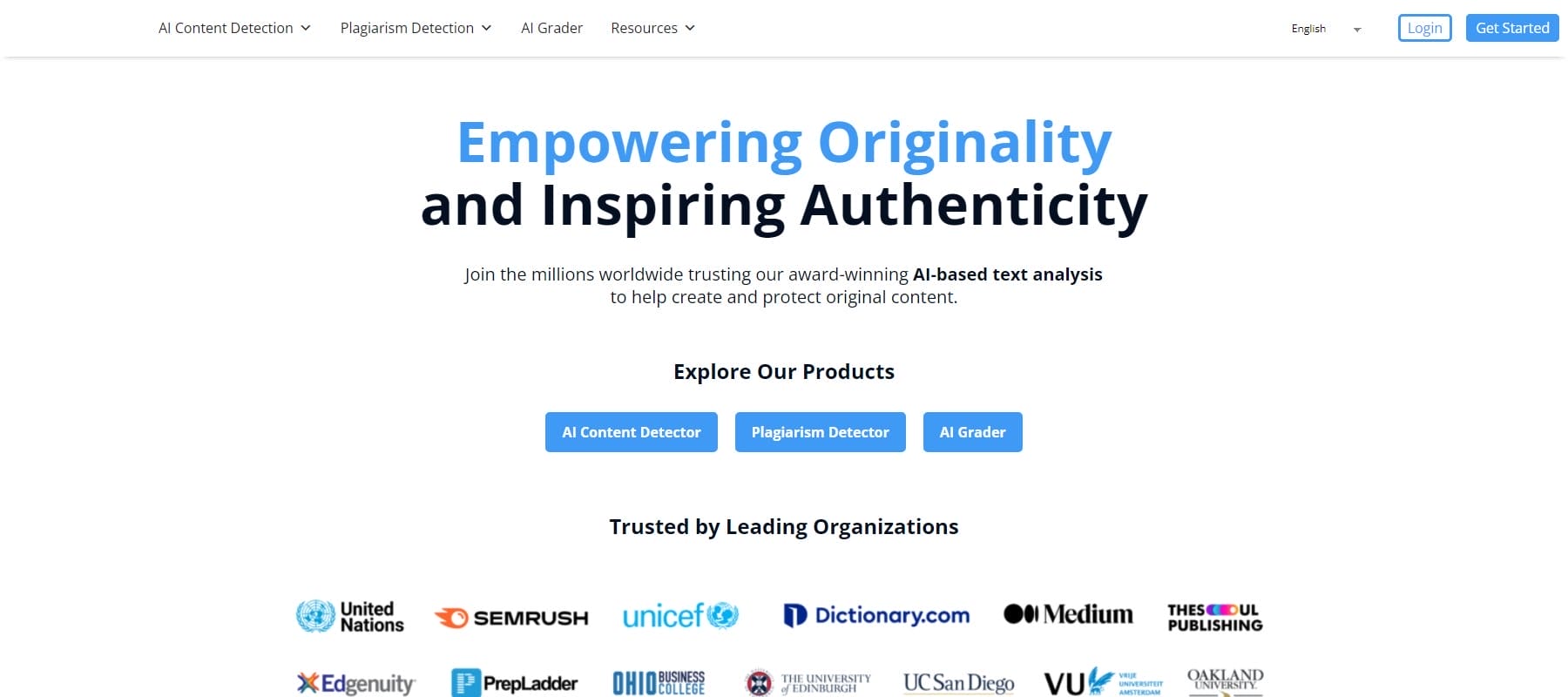 Copyleaks offers a simple-to-use AI-content detector on their website. This free service screens text using AI-based analysis of context.
Key Features:
Simple-to-use plagiarism and AI detection
LMS integrations, including Canvas, Blackboard, and Moodle
Offers a Chrome Extension for real-time detection
Best For:
Copyleaks is perfect for educators, students, and content creators who need a versatile tool for catching AI-generated content.
Pricing: Plans start as low as $10.99/mo with a limited free version available
6. OpenAI Text Classifier

The OpenAI Text Classifier is a tool from OpenAI, an organization specializing in artificial intelligence.
Key Features:
High accuracy for finding out if the author was human or AI
Free and available to all
Easy integration with APIs
Best For:
Individuals and professionals needing to verify the origin of their content will find the OpenAI Text Classifier a practical tool.
Pricing: Free to use
7. CrossPlag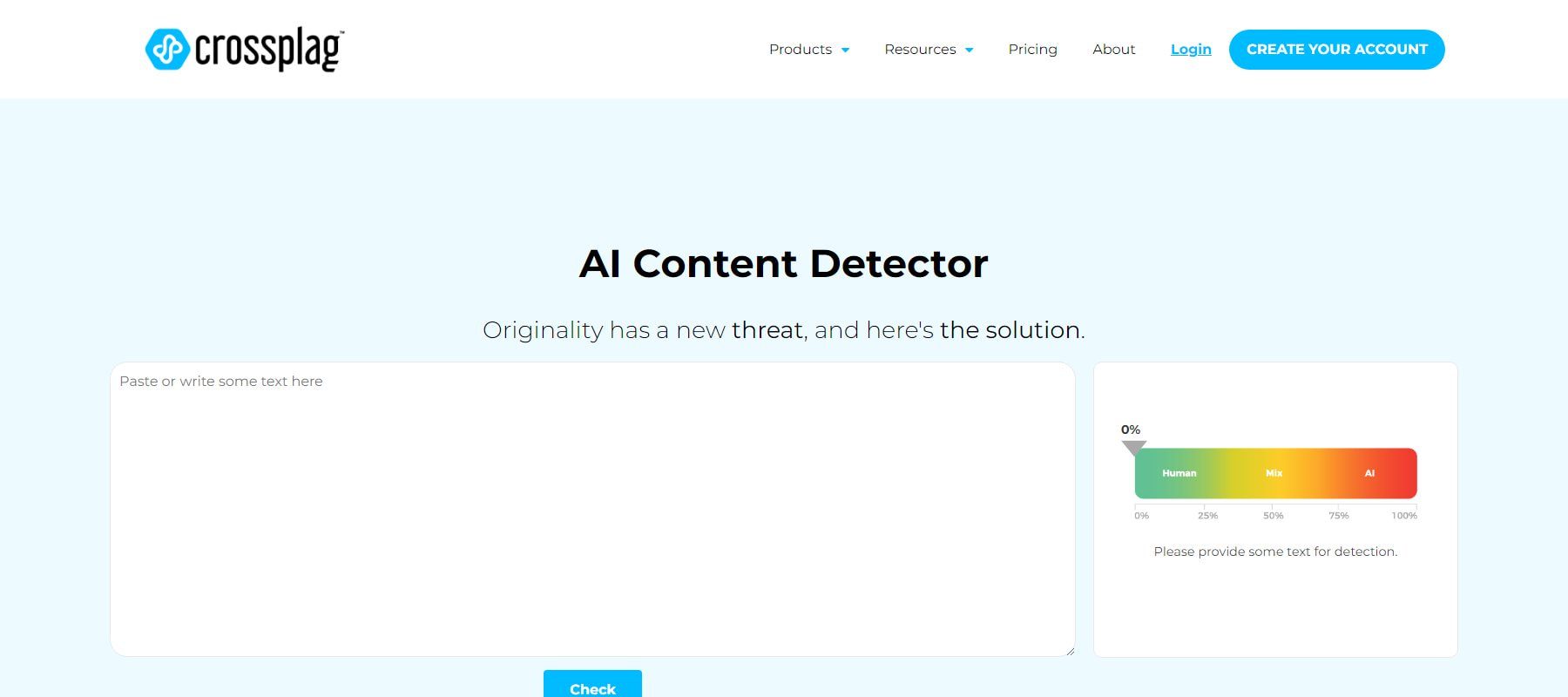 CrossPlag AI is a tool designed to detect AI-generated content with precision.
Key Features:
Thermometer scale for visually scoring confidence levels
Pricing for individuals and institutions
Data protection by not storing any of the submitted content
Best For:
CrossPlag AI is an excellent tool for content creators and SEO professionals who need to ensure the originality of their content.
Pricing: $9.99 for 5,000 words with different pricing tiers for organizations
8. Content at Scale
Content at Scale stands out as a unique tool, offering an AI detector as part of its AI writing platform.
Key Features:
Unique Human Content Score
Quick verdict on the likely origin of content
Comprehensive insight into the reasoning behind the scoring
Best For:
Content at Scale is an ideal tool for businesses and content creators seeking a deeper understanding of their content's authenticity.
Pricing: Starts at $250/mo for the whole SEO writing platform (with AI content detection)
9. AISEO

AISEO is a comprehensive platform that offers a suite of tools, one of which is its AI Content Detector.
Key Features:
Helps generate SEO-optimized copy
Easy to use with accurate results
Comprehensive reporting that makes insights easy to understand
Best For:
The AISEO Content Detection tool is a good fit for content marketers and editors who need to check the originality of their content.
Pricing: Limited free options with paid plans starting at $19/mo
The Uses of AI Content and Plagiarism Detectors
Low-quality AI content or duplicated work can be a ticking time bomb for a business. If detected, it can cause a host of issues:
Immediate damage to reputation if work is found to be plagiarized
Potential penalties from Google for low-quality content, as per changing E-E-A-T standards
Overpayment to writers who may not have done the work they claimed to have done
Possible future copyright issues
Content that is merely average rather than exceptional
AI content detectors assist by helping to:
Estimate if AI writing tools generate content
Find copied or plagiarized content
Assess the percentage of original content of a piece
Using AI carte blanche has inherent risks and new possibilities. A more thoughtful approach is to use AI alongside human writing practices. AI writing detectors can serve an essential piece in understanding the content before you.
Conclusion
The best AI content detector in our books is Originality. AI. It has very reasonable pricing based on usage, meaning you aren't paying a monthly subscription even on months you use it less. It also helps with AI content sniffing and plagiarism finding, which are necessary for content operations.
Regardless, if you want to find out if Google will likely categorize your text as low-quality, or if you want to ensure your writers are doing the required work or see that your content isn't plagiarizing others' content, these AI content detectors can help you quickly analyze text using cutting-edge technology.
Are you looking to leverage AI across your business to create new efficiencies and tap uncharted opportunities? Look at the best AI writing software and AI art generators for content sites and teams.