Ensuring your website Engine Optimization (SEO) is up to par in the current digital age is crucial. You can improve your website's performance with a successful SEO strategy that shines in search Engine Results Pages (SERPs), drive organic traffic, and escalate sales.
With tasks like keyword research, creating quality SEO content, and figuring out how to get your content noticed, SEO can become time-consuming. Luckily, the rapid growth of Artificial Intelligence (AI) is revolutionizing this process by automating numerous steps. This article presents the top AI SEO tools that can make your business thrive while saving you precious time.
Understanding the Concept of AI SEO Tools
AI SEO tools are sophisticated solutions that automate many tasks, including monitoring and analyzing your website and offering valuable insights and suggestions for enhancements.
These advanced tools leverage machine learning algorithms to suggest pertinent keywords, pinpoint optimization areas, and conduct an exhaustive site analysis – all at a speed that outmatches human capabilities.
Whether managing a single website or handling multiple ones, AI SEO tools can help streamline your operations and yield superior results in less time. We considered several factors when selecting our list of best AI SEO tools.
First, we ensured that these tools offer features that justify their cost. Secondly, we considered ease of use, as learning a complicated SEO program can add to your frustration if you're a novice. Lastly, we meticulously tested each platform to evaluate its strengths and weaknesses. So, let's delve in without further ado.
1. Semrush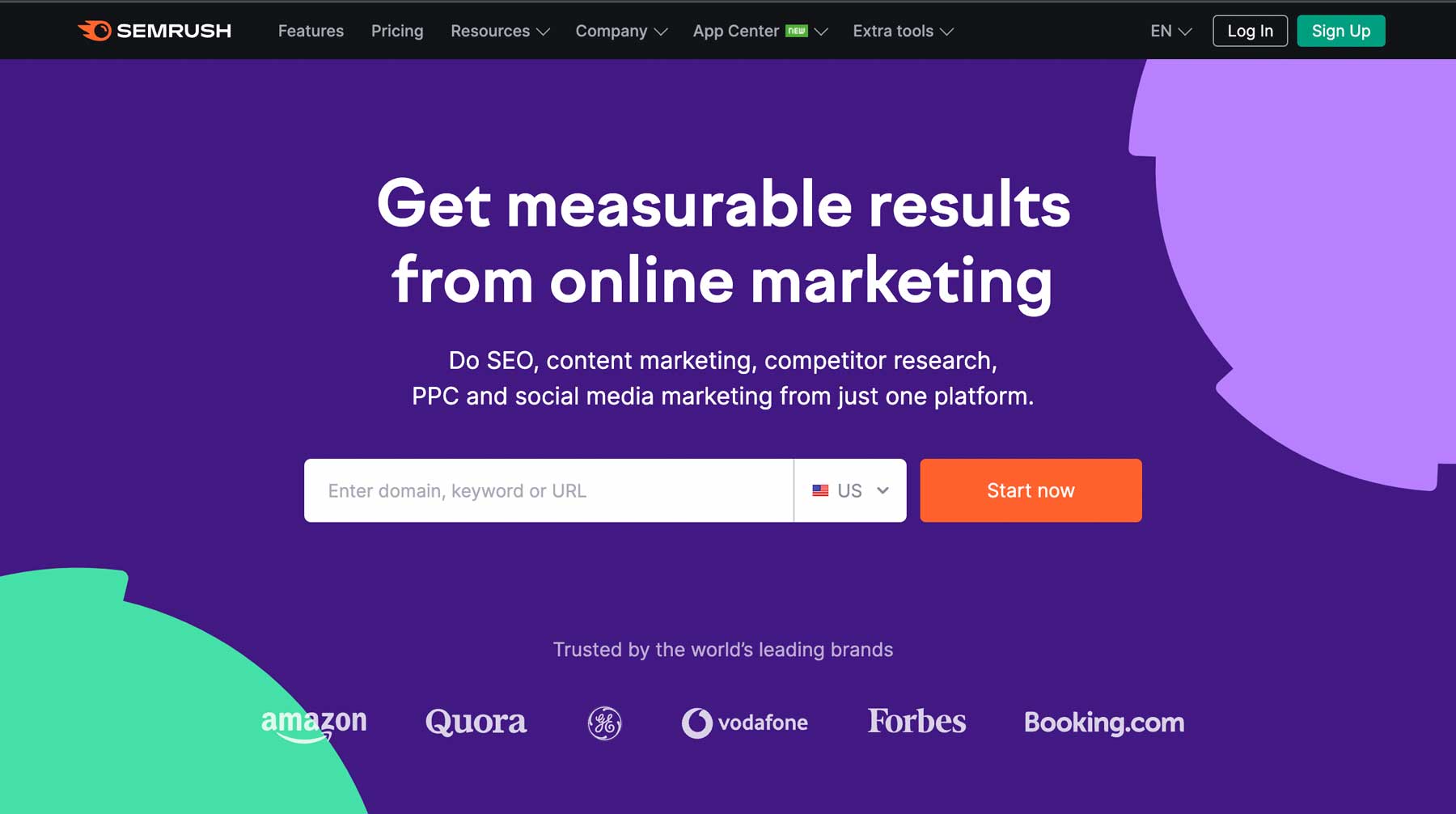 Semrush is a well-established name in the SEO landscape. It allows you to execute keyword research, optimize on-page SEO, conduct a keyword gap analysis (competitor analysis), assist in configuring local SEO, build links, and track keywords, among other features. However, Semrush also incorporates some impressive AI features.
Semrush offers 76 potent AI SEO tools, including a writing assistant and rephrasing tool, for optimizing content across various platforms, such as blogs, Amazon products, and social media posts. It can generate blog ideas and rewrite existing content for SEO optimization.
However, during our testing, we found that it took several attempts to create valuable content ideas. Nevertheless, their other AI tools, such as the text-to-image generator, meta description creator, and FAQ answer generator, performed well based on our prompts.
Key Features:
Competitor keyword analysis
Link building strategies
On-page SEO optimization
76 AI SEO tools
Best Fit For:
While Semrush might be pricier, like Alli AI, it is considered one of the best SEO tools. If you want to integrate AI into your SEO strategy, Semrush has the tools you need to rank higher.
Pricing: Free, with premium monthly plans starting at $119.95.
2. Alli AI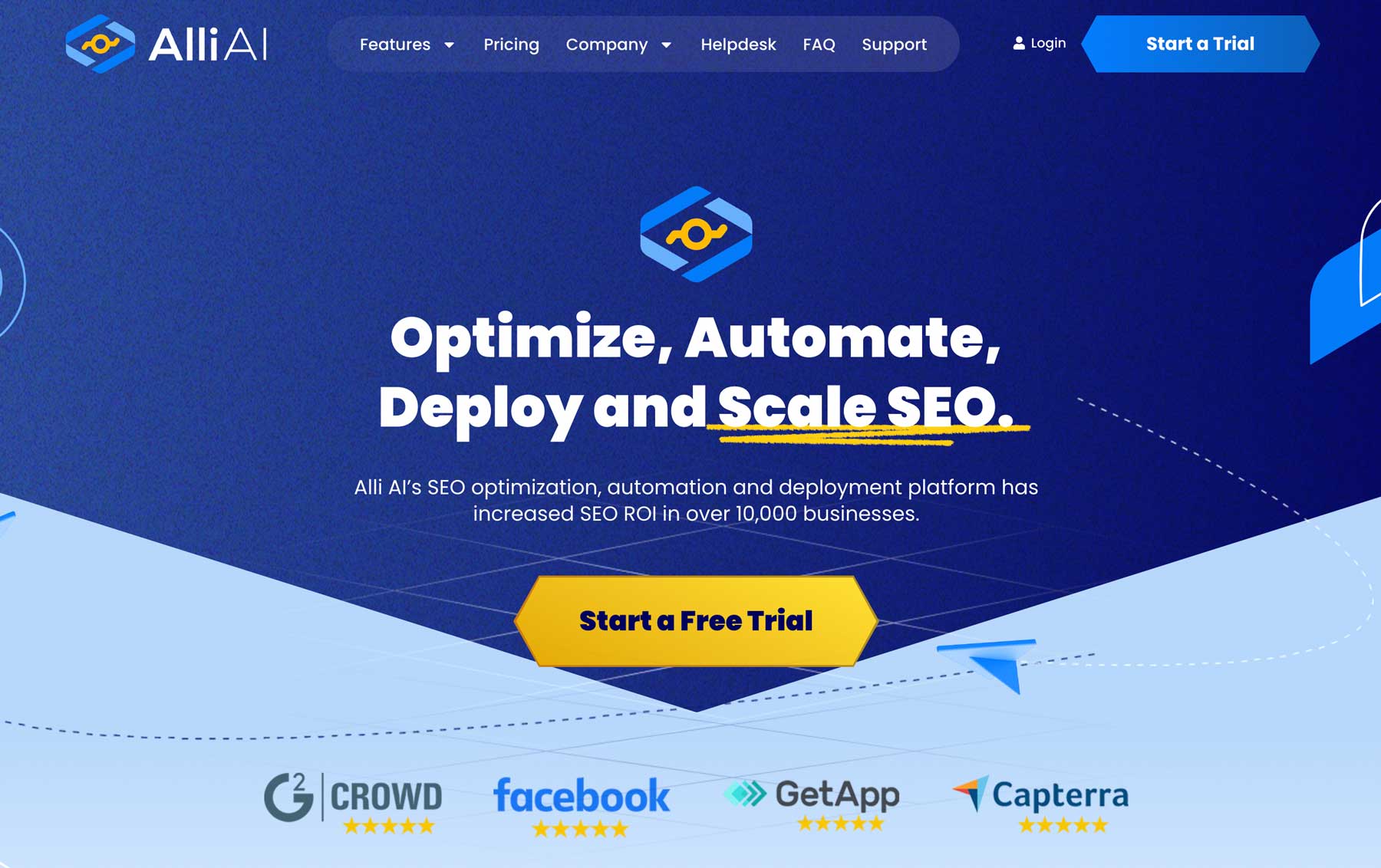 Alli AI tops our list as an AI SEO tool with features to simplify managing your site's SEO. With Alli AI, you can optimize your on-page SEO on a large scale by setting site-wide optimization rules down to the single-page level with a single click. Alli can create page titles, meta descriptions, and content alterations for your pages and posts site-wide, helping you achieve more in less time.
Alli AI's live editor revolutionizes your SEO approach by letting you edit content directly on the front end. This can be a game-changer for users of other CMS platforms or static HTML websites. The live editor lets you see on-page SEO recommendations and make changes instantly.
Additionally, Alli's SEO automation process is a key highlight. Upon your initial scan, Alli generates new suggestions to bolster your SEO, and you can implement them with a simple click. You also have the flexibility to selectively apply suitable recommendations and ignore the ones you don't.
Key Features:
Comprehensive on-page SEO
Live editor
Bulk-generate page titles, meta descriptions, and other content modifications
Best Fit For:
The impressive features of Alli AI come with a price tag, which may deter some users. Monthly plans start at $249, with the AI Engine adding an extra $19 monthly for optimized meta descriptions and page titles. However, they offer a 10-day free trial to test it out.
Pricing: Starts at $249 per month.
3. Diib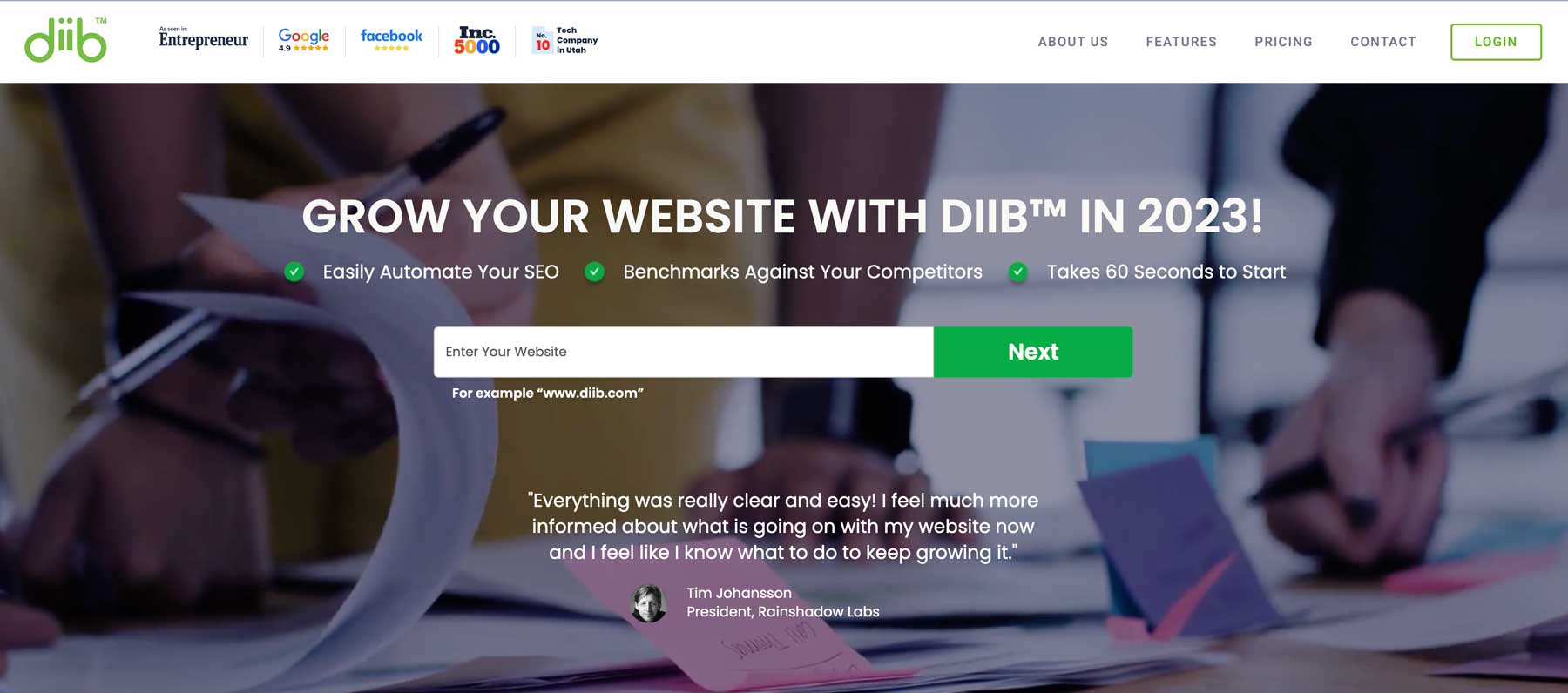 Diib is another AI SEO tool that enhances your search engine ranking with this comprehensive tool, explores growth opportunities, and gains insight into your competitors' strategies. Unlike other tools on our list, Diib goes the extra mile by providing valuable services such as page speed insights, social analytics that evaluate your performance on Facebook, and alerts for items that require immediate attention.
When you log in to Diib, a suite of powerful tools is available to help you optimize your website. Diib provides insight into your website's health by analyzing your mobile speed, core web vitals, domain authority, current keyword rankings, sitemap, SSL certificate, blocklists, and email deliverability. Plus, you'll receive a weekly health score that leverages AI to forecast your website's performance based on Diib's metrics.
Additionally, you can monitor your website and social media ranking, evaluate how mobile-friendly your site is, and gauge the overall browsing experience of your visitors. Lastly, you can navigate Diib's suggestions, known as objectives, aiming to boost your search engine rankings.
Key Features:
Alerts for SEO-related points to address first
Keyword research
Social Analytics
Speed related data
Competitor analysis
Best Fit For:
If you want an affordable, feature-packed AI SEO tool, you should give Diib a try. With a wealth of insights, guided steps to increase your search engine rankings, and a simple interface, Diib is an excellent option for budget-conscious people who want to up their SEO game.
Pricing: Plan renewal is $44.99 monthly, with a $7.99 monthly fee.
4. Surfer SEO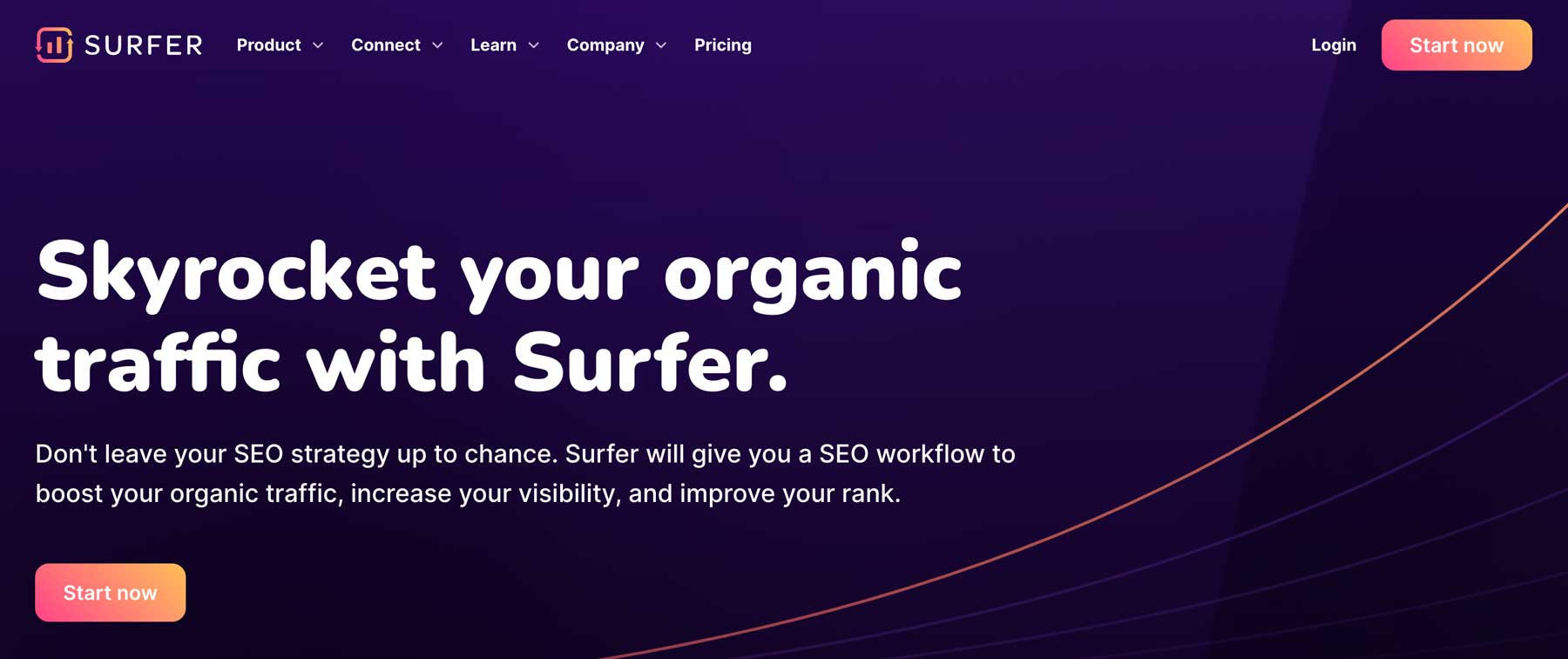 Surfer SEO uses a natural language processing (NLP) model. Aside from its seamless integration with WordPress, it is also compatible with other popular content management systems, making SEO content optimization a breeze while creating it.
Surfer SEO analyses your competitor's keywords and content, runs them through an open-source NLP, and suggests how often you should use those keywords in your content. Additionally, it reveals how many words, headings, paragraphs, and images a post should contain. By adhering to their suggestions, Surfer SEO promises to boost your ranking in the SERPs.
Surfer SEO is not just an excellent AI content generator – it also offers additional AI technology. Their Grow Flow product gives you weekly tips on enhancing your site's SEO. With this tool, you'll receive alerts for missing keywords, discover relevant keywords to improve your rankings, detect internal linking opportunities, and generate article ideas based on your industry to boost your SEO.
However, a potential downside of using Surfer SEO is the inability to determine if you've over-optimized your content. Surfer SEO's algorithm primarily uses your competitors' keywords and content to identify ways to improve your own and recommends how often to use each keyword.
While implementing these suggestions can boost your overall score, once you've reached a score of 100 and continue to stuff keywords into your content, the tool won't alert you that you may be over-optimizing – which is considered a black hat SEO technique – and that isn't a good thing.
Key Features:
Blog content generator
Grow Flow
SEO content editor
Plagiarism checker
Integration with WordPress, Jasper, and others
AI outline generator
Best Fit For:
Surfer SEO is on-page SEO optimization made easy with this tool, offering valuable suggestions for keywords and headings, among other metrics. However, it's worth noting that over-optimization may occur if you rely solely on Surfer. That said, if you have experience with SEO and want to streamline the process, Surfer SEO is worth considering.
Pricing: $49 per month.
5. Can I Rank?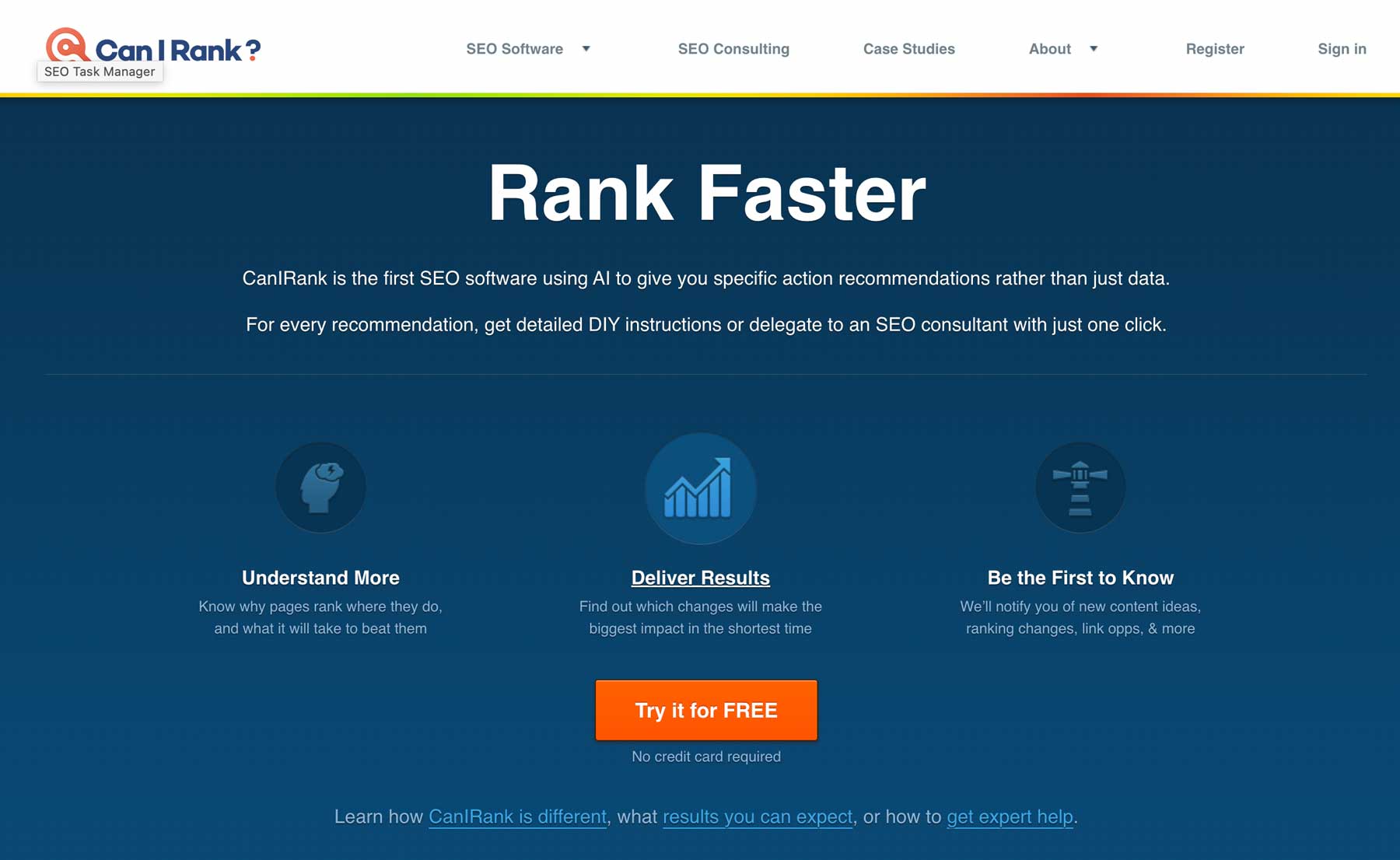 Last but not least, we have an I Rank, which takes a different approach to SEO than the other products on our list. Instead of relying solely on its data, Can I Rank collects information from other SEO services, such as Ahrefs, and uses it to provide valuable insights, opportunities, and recommendations.
Moreover, Can I Rank's AI-powered tools simplify tasks like keyword research and link building, allowing you to efficiently manage all aspects of your SEO strategy using a single comprehensive solution?
Can I Rank one of the most valuable features for website owners, which is the actionable solutions provided after an initial site scan? Suggestions are presented based on AI scouring the internet on what steps to take to improve a site's rankings, along with an estimated cost and completion time, should you need to outsource the work.
During our testing, a post relevant to our keyword was provided, as well as a way to reach out to the post's author to ask to promote our website. This is particularly useful for small business owners looking to enhance their SEO rankings and network with popular blogs that frequently post about similar businesses. Using practical, outlined steps, they can implement them independently or outsource the work to a freelancer or agency.
Key Features:
Keyword research
Competitor analysis
Link building
SEO improvements through AI
Best Fit For:
Can I Rank is a small business, and freelancers will find this solution excellent. You'll get a series of actionable steps that will have you ranking higher on search engines in no time. If you want to try their premium plans, they offer a 7-day free trial without using a credit card.
Pricing: Free, with pro monthly plans starting at $49.
6. Frase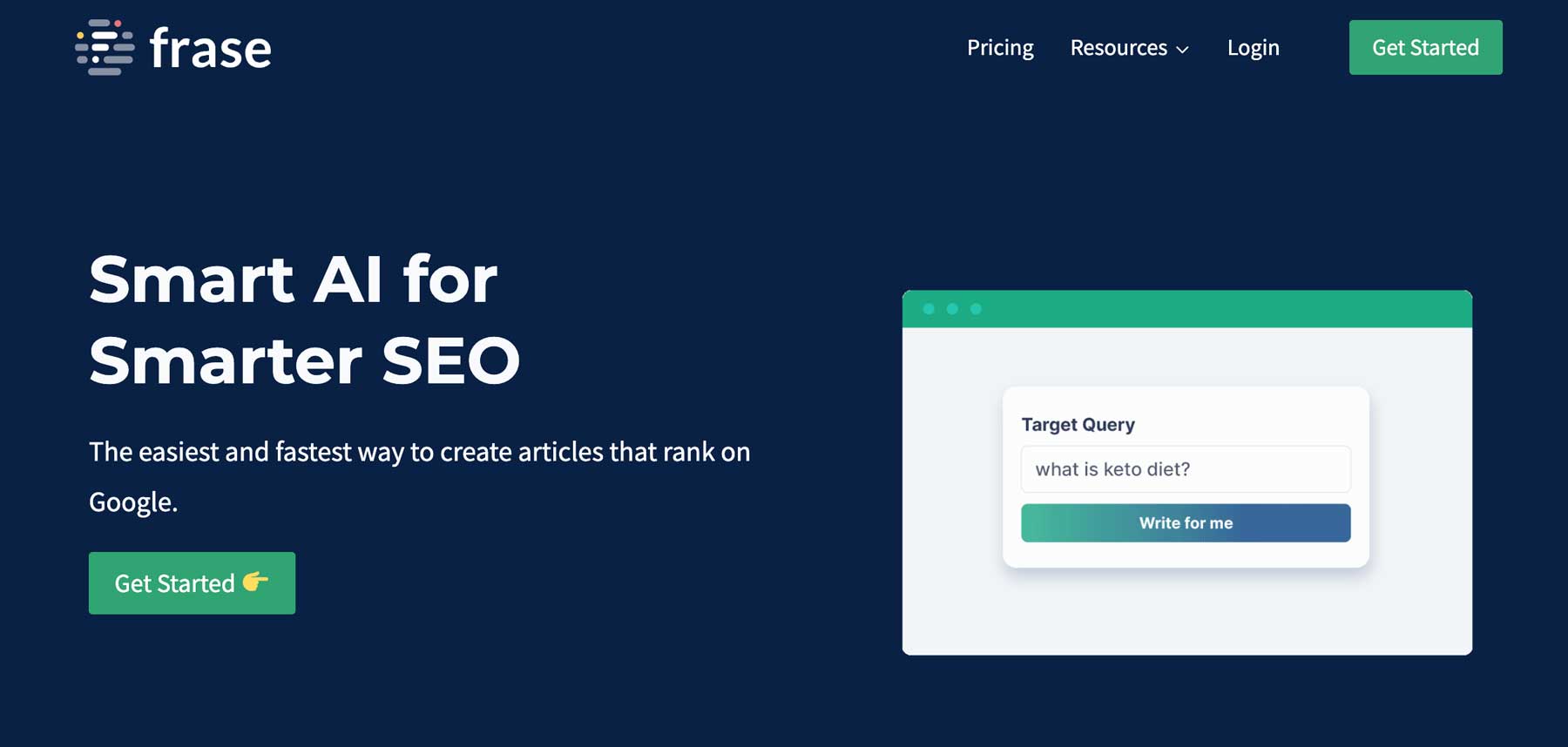 Frase is one of the best AI content writing tools that harness the power of AI to help you create superior content in significantly less time. It can help you identify keywords, optimize your existing content, and give you a better chance at ranking higher in search engines. But it does more than that. With Frase, you'll get insights into how your website performs against your competitors in terms of SEO.
Besides the exceptional AI content generation, the Google Search Console (GSC)content analysis tool is undeniably the standout feature. Once you connect your GSC account, your SEO strategy can be guided by the insights provided by this tool.
The KPI report and other essential metrics, such as ranked pages, impressions, and cost per click, are readily available in the Frase app's content editor. Additionally, you can easily discover your top-ranked keywords and their average ranking position, which helps identify your opportunities.
Another good feature of Frase is the topic planner. By entering a seed keyword, you're provided access to long-tail keywords that further improve your content's search rankings.
Key Features:
Create AI outlines and briefs
Keyword research tools
Internal and external link suggestions
GSC Content Analytics
Best Fit For:
Frase is one of the best AI SEO tools that offer valuable insights to improve your content while aiding in creating new content and measuring your site's performance. With its affordable price point, Frase is accessible to anyone looking to enhance their overall SEO strategy.
Pricing: $14.99 per month.
7. SE Ranking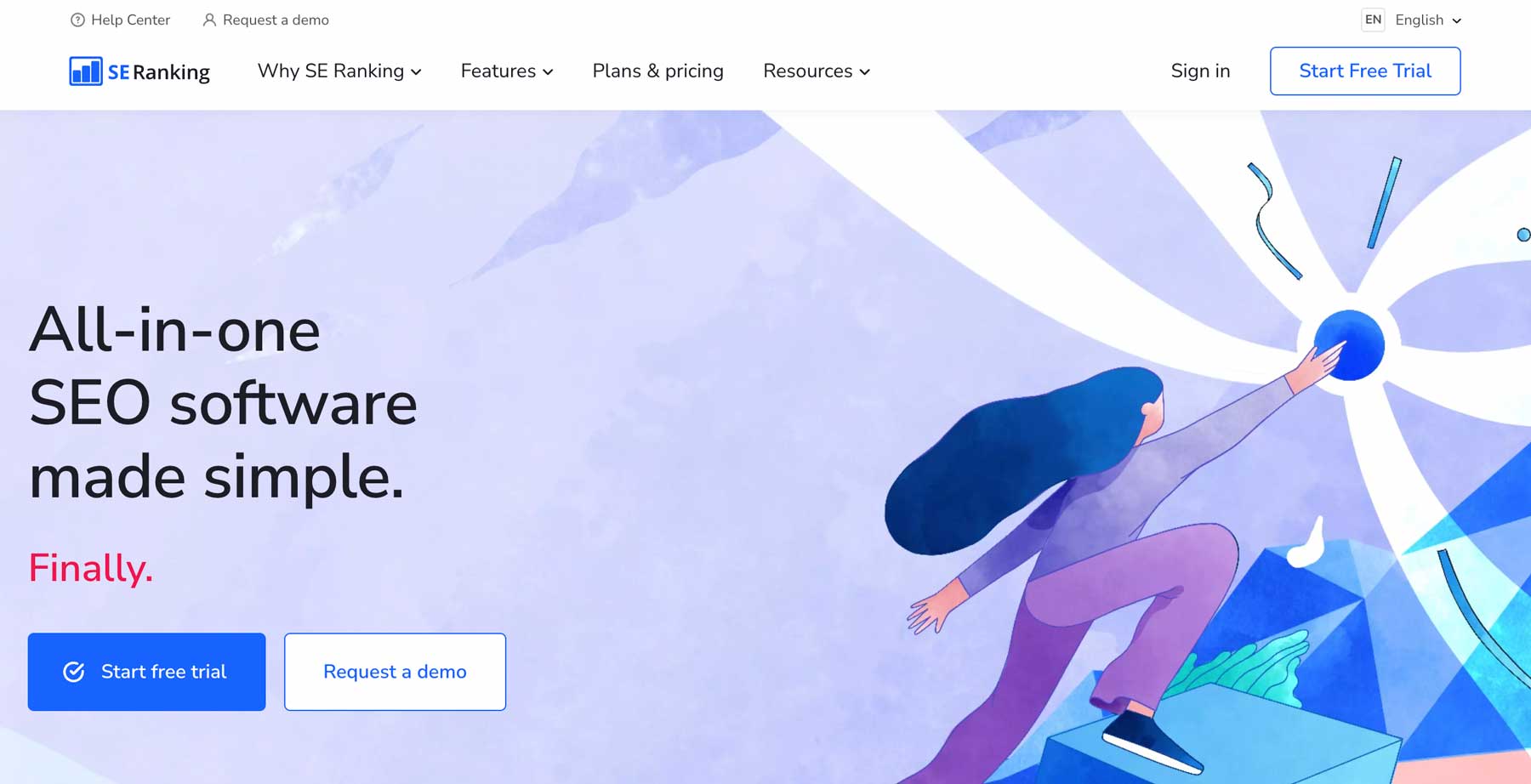 SE Ranking, another AI SEO tool in our list, comes packed with numerous features to boost your website's organic traffic. Among its standout features is the rank tracker, which enables you to monitor the performance of your keywords and compare them with your competitors.
Additionally, the AI-powered site audit tool provides a comprehensive overview of your website, while the on-page SEO checker optimizes your content for maximum impact. Moreover, the white-label tool lets you create custom, in-depth reports for your clients, ensuring they are always updated about their site's performance.
SE Ranking boasts impressive features, including the Content Idea Finder. This tool analyzes industry-related keywords and generates a comprehensive report with content clusters, search volume, and keyword difficulty.
This is useful for devising a content strategy, initiating a blog, or setting up a content calendar. You can click on one of the topics to launch the AI content creator to assist you in using that keyword to create a post. Creating content ideas for your business is simple, intuitive, and seamless.
Key Features:
Keyword tracker
On-page SEO checker
Custom white-label reporting
Create content clusters, then edit with AI
Best Fit For:
If you're looking for an all-in-one solution for generating content and keeping track of your site's SEO performance, consider trying SE Ranking. They offer a 14-day free trial without requiring a credit card, so you'll have plenty of time to probe the platform to see if it's right.
Pricing: $49 per month.
Conclusion
AI SEO tools can provide a great way to improve your website's search engine rankings. Alli AI stands out as the most effective of all the products on our list. Semrush is another great option.
Whether you need to quickly identify a missing alt tag, add a meta description, or edit a page title, Alli AI has you covered. With the help of Alli AI, you can quickly identify any issues with your website that may be holding you back from reaching its full potential.
Whether you're looking to conduct keyword research, improve your content, or optimize your website, Alli AI has the best AI SEO tools to fit your needs. Need more AI tools? Check out our complete list of the best AI tools. Here are a few you might find interesting: