With the digital content creation industry projected to sell to $38.2 billion by 2030, the value of content optimization tools is becoming increasingly evident. They are the backbone of a robust SEO strategy and can help marketers create and optimize content to cater to Google's intricate ranking algorithm.
Among the leading tools in this space are GrowthBar, Semrush, Yoast, and Clearscope. They aid SEO professionals and agencies in several ways, including content auditing, formatting improvement, image optimization, internal linking, keyword research, and even AI-assisted writing.
This comprehensive guide will help you determine which content optimization tool is best suited for your specific needs and budget.
Overview of Content Optimization Tools
Content optimization tools leverage algorithms, AI, and machine learning to make the process of creating and optimizing content quicker and simpler. They are widely used by bloggers, in-house marketing teams, agencies, and SaaS businesses.
Their mechanism of operation involves scraping webpages of top-ranking posts, identifying common elements, and combining this information with natural language processing (NLP) to provide recommendations to content creators and marketers. These recommendations should offer the most data-driven approach to rank for the chosen search keyword.
All the tools listed in this guide assist in:
Streamlining the brainstorming, writing, and publishing process, including guiding any writing staff
Optimizing your content for search engines by providing recommendations for keywords, headings, post length, and more
Creating more content faster by providing keywords, content briefs, outlines, and AI-composed pieces or outlines to base your writing on
Predicting content success by determining the ease of ranking for specific keywords and how to modify your content to best rank for it (many do this by providing "content scores" as you write)
Now, let's delve into which content optimization tool can help you become an authority in your niche and rank on Google.
Top Content Optimization Tools for SEO
1. Yoast
Yoast is a WordPress SEO plugin that has been optimizing content for SEO since 2010. It has become synonymous with WordPress SEO over the years. As you create blog posts and add pages in WordPress, Yoast offers suggestions for optimizing them with additional keywords, meta descriptions, content length and clarity, and numerous other recommendations. It's a comprehensive content optimization solution for a blogger using WordPress.
Key Features:
Offers suggestions for keyword density, linking, optimal URL, and others in your WordPress blog posts
Allows you to create meta descriptions
Enables you to run redirects on your site
Includes schema markup
Allows you to see a preview of your finished page
Lets you easily edit your URL slug, run redirects from old pages to new, breadcrumbs, and more
Includes a duplicate content checker
Handles technical aspects such as robots.txt, .htaccess, sitemaps, and more
Pricing: $99/year
Customers: Not listed due to the vast number of users (over 12 million active users)
Yoast is a reliable, well-trusted WordPress SEO plugin that users love and has been a favourite at Growth Marketing Pro since the beginning. However, you'll need another SEO tool in addition to Yoast, as it's not equipped to do keyword research and competitor research. Therefore, combining Yoast with another SEO tool is necessary.
2. GrowthBar
GrowthBar is a content optimization tool designed for results-oriented entrepreneurs and marketers. It aids users in uncovering opportunities with keyword research and then in planning, writing, and optimizing content.
Built on years of market research and OpenAI, GrowthBar offers users a precise, actionable content optimization process. It scrapes hundreds of results on the Google search engine results page (SERP) and provides all the necessary information to rank for a given keyword.
Key Features:
Allows you to import any web article for optimization directly in GrowthBar
Presents SEO tips in intuitive dashboards, including word counts, headers, images, titles, readability scores, LSI keywords, and more
Offers internal linking recommendations
Integrates with Grammarly
Functions as a content generator. It was the world's first SEO tool to use AI to generate blog posts in a couple of clicks.
Provides several research tools, including keyword research and competitor research
Pricing:
GrowthBar offers a free 5-day trial and then charges $29/month.
The Bottom Line:
GrowthBar is the most comprehensive content optimization tool for bloggers, trusted by thousands of entrepreneurs and marketers at renowned companies such as MagicJack, Bill.com, TeePublic, Codeless, and Minted.
It provides optimized content along with curated insights, billions of keywords, and content in an easy-to-use, user-friendly manner.
3. Semrush
Semrush is more than just a content optimization tool. In fact, content optimization isn't even what Semrush is best known for. It's a suite of digital marketing research tools with more than 50 options and is especially recognized as a keyword research, technical SEO, and competitive intelligence platform.
By simply typing in a URL, you can see exactly which keywords a site ranks for and get the estimated organic and paid traffic. Semrush also enables you to deep dive into any website's backlinks, paid ad campaigns, social media followings, and more.
But with actionable SEO tips, real-time content auditing, tone of voice suggestions, and readability review, Semrush does a great job helping optimize your content for SEO and offers a number of onboarding materials and tips and tricks.
Key Features:
SEO recommendations on content readability
Plagiarism check
Keyword tracking within content
Word count recommendations
Title optimization
Track organic keyword rankings
Position tracking
Perform website audits
Set benchmarks for data analysis
Find and analyze keywords
Competitor overviews
See competitor's paid ads
Top movers by position
Technical site audits
Mobile performance audits
Chrome Extension for keyword research
Pricing:
Semrush frequently offers free trials, though the length varies. For their Pro Plan, which lets you manage up to 5 projects, they offer three paid plans starting at $99/month.
You can upgrade to their Guru Plan for 50 projects and additional features or their Business Plan for 200 projects.
Customers:
Tesla
Nike
WalMart
Forbes
IBM
The Bottom Line:
Semrush is one of the most powerful SEO suites available. It does everything really well, and after a small learning curve, it's easy to understand. The content optimization tool is decent but not as strong as GrowthBar or Clearscope.
Semrush is considered an enterprise tool since it provides extensive data and costs over $1,000 per year to use. If you only need a content optimization tool or at least don't need 50+ different tools, you'd probably be better off trying GrowthBar or Clearscope.
4. Clearscope
Clearscope uses IBM Watson to analyze high-ranking content on search engines and provide suggestions based on this data and SEO best practices. You tell Clearscope a keyword you want to rank for, and it reverse engineers the top results on Google for that term.
Clearscope provides a list of key terms and topics and competitors currently ranking for that term and a content optimization outline for whichever topic you click "optimize." This outline helps you understand the scope of work, decide what topics to cover, and the length of your post. It's very similar to GrowthBar.
While you're working, it assigns a content score based on your post's word count, readability, and search volume, as well as how to improve this score. It also audits existing content and gives suggestions for ways to improve it, including content length insights and readability score.
Clearscope advertises its natural language machine learning, which allows it to make suggestions about article tone and additional keywords that should be included for your content to rank. Plus, they have keyword research capabilities like many of the other tools.
Key Features:
Analyzing competitor content
Suggestion for content length
Grading and content assessment in real-time
Optimizing your article with additional keywords
Google Docs & WordPress integration
Unlimited sharing and exporting
Free onboarding and training
Keyword planner
Pricing:
Essentials: $170/month
Professional: $350/month
Enterprise: Custom pricing
The Bottom Line:
Clearscope makes on-page SEO insights as clear and accurate as possible. Clearscope can help you determine how many words a post should have for a particular keyword. It is Clearscope's job to suggest additional keywords for each article you write.
Clearscope is easy to use. In a few hours, your writers can easily learn how to use it. It really works. It's got a host of useful features, but…the price tag is pretty high, so it's probably best for mid to large-sized companies.
5. Surfer SEO
Surfer SEO is a full-service SEO company that provides a SERP analyzer, content editor, keyword research, SEO audit, and a content editor extension. You can write directly in their content editor and work to improve their continually updating "Content Score."
Their data-driven content editor model takes the guesswork out of manually optimizing your content by showing marketers what's working for the currently top-performing pages…and then how to outrank them.
Surfer SEO also offers a content editor Chrome Extension that works in both WordPress and Google Docs, so you can use it as you go.
Key Features:
Create landing pages and optimize old blog posts
Scores and recommendations for optimizing content (length and topic suggestions)
Boost your ranking for several keywords at once with a multi-keyword analysis
Google Docs and WordPress integration
SEO-driven content briefs
SERP Analyzer
Chrome Extension for keyword research
Now, it also includes direct integration with Google Search Console so that you can get ongoing content optimization opportunities weekly.
Pricing:
Basic: $49/month
Pro: $99/month
Business: $199/month
The Bottom Line:
Surfer SEO is a content creator who can use this tool to boost existing rankings and create content that will rank higher. SEO beginners will especially benefit from it.
And since it's available as a web app, it's easier for your teams to use the tool and collaborate on content. It's truly a great tool for on-site SEO, but you need to know what you're looking for because it can be a bit of a data overload at times.
At a more affordable price, it's a good option for smaller businesses or freelancers.
6. Frase
Frase is a content optimization tool that identifies the content most relevant to your research and then provides a "smart outline" for your content.
It also automatically generates content briefs that you can share with any writers on your project so they know exactly what to include to rank that piece well. You can also make your template brief with detailed brand guidelines.
You can treat Frase's platform like any other word processor and write your copy directly into the platform. As you write, a number of "smart insights" will pop up next to your document, as well as the ranking articles will mention some topics that you can incorporate into your content score.
Frase also helps you optimize your content workflows, allowing you to invite writers to your projects, assign due dates, tag documents by stage, and export to WordPress.
Key Features:
Automatically generated content briefs, sentences, and paragraphs
AI templates for blog intros, FAQs, headings, and more
Google Search Console analytics & insights
SEO guidelines with content scoring
Optimizes content workflows
Content strategy template
Customers:
Coursera
Talk Space
Merkle
Digitas
PTC
Career Karma
Pricing:
Frase has three pricing plans and an SEO add-on for $35/month. Plus, a 7-day free trial.
Basic: $44.99/month
Team: $114.99/month
Enterprise: Custom pricing
The Bottom Line:
Frase is keeping its customers happy with its customer support, various improvements, and their Facebook Group. Considering its price point compared to the other platforms on this list, Frase is a good option for smaller businesses or freelancers.
7. MarketMuse
MarketMuse is a content optimizer that uses AI-driven research on your topic for you to rank for it. We will determine your difficulty score based on your entire content inventory. It was one of the first tools in the content optimization space.
It provides detailed content briefs that include how much content should be provided to cover important related topics and then uses natural language, not keywords, to suggest content. MarketMuse uses target content scores, subheading suggestions, related topics, internal and external linking suggestions, shareable links, and more to get your content ready to publish.
Key Features:
Content competition analysis
Personalized difficulty scores for your site based on its content
Fully outlined content briefs about topics to cover word count goals and KPIs
Internal link-building suggestions and external link ideas
Predicts content performance
Inventories and audits current and past content
Customers:
Discover
Jabil
Lionbridge
The Motley Fool
ISSA
Pricing:
Free
Standard: $7,200/year
Premium: $12,000/year
The Bottom Line:
MarketMuse is a solid content optimization tool, especially given its price point compared to the other platforms on this list. Its year-long commitment provides a high ROI. Overall, it's a good product but best for enterprise-level companies because of the high price tag.
Other Noteworthy Content Optimization Tools
Besides the top content optimization tools mentioned above, other commendable platforms can help improve and optimize your content.
Google Search Console
Google Search Console monitors and troubleshoots your website's performance in Google Search results, which is a free service provided by Google. It doesn't matter whether you're an SEO expert, a website administrator, a site developer, or a web app owner; using Google Search Console, you can improve your search engine visibility with useful insights.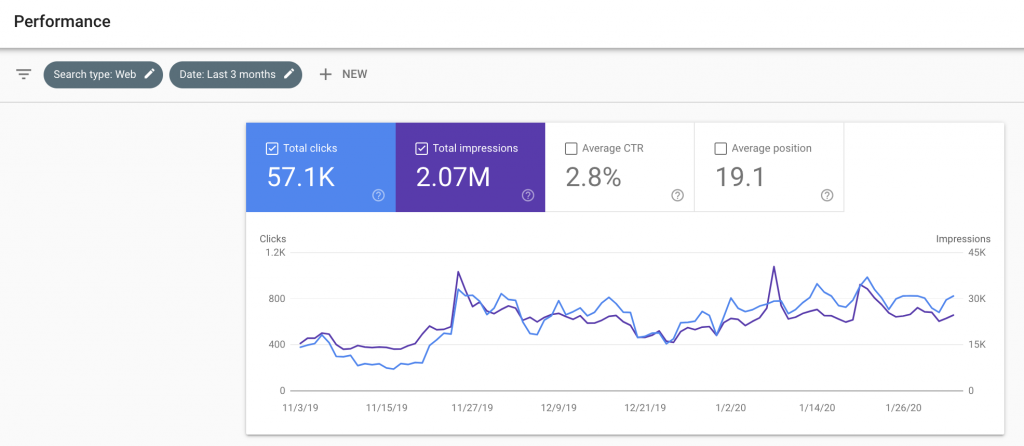 Google Search Console analytics example.
Grammarly
Grammarly is an online grammar-checking, spell-checking, and plagiarism-detection platform. It's like having your grammar coach. As you type, it checks your text for hundreds of common and advanced writing issues. A number of grammatical errors are checked, including subject-verb agreement, article use, and modifier placement, as well as contextual spelling errors, phonetic spelling errors, and irregular verb conjugations.
Hemingway Editor
The Hemingway Editor highlights lengthy, complex sentences and common errors. Yellow sentences should be shortened or split. You will get lost trying to follow a sentence with a red highlight because it is so dense and complex.
Wordable
Wordable is a simple tool with a high ROI. What it does is straightforward: with a click of a button, you can upload your Google Docs multiple docs, fully formatted and with images into WordPress and other CMS.
Pricing :
Professional: $49/month
Team: $99/month
Company: $299/month
Enterprise: $999/month